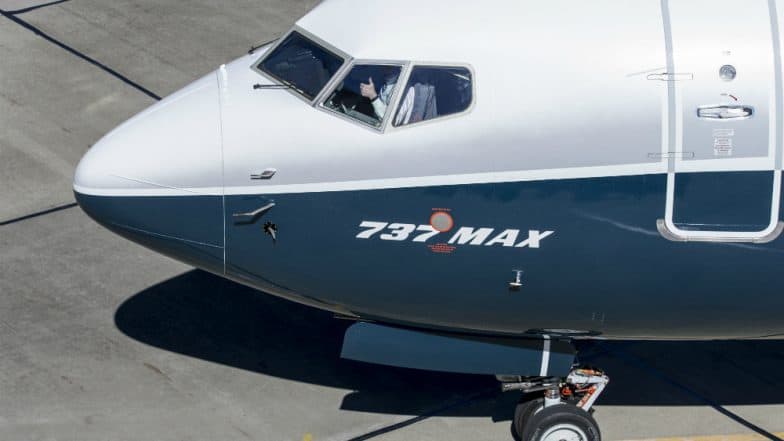 Toronto, March 14: Aircraft manufacturer Boeing has issued an advisory asking for all 370 of its aircrafts of the 737 Max8 version be grounded following the discovery of fresh evidence near the Ethiopian Airlines crash site in Addis Ababa.
Boeing said it "continues to have full confidence in the safety of the 737 Max". However, it said that after consultation with the FAA and the National Transportation Safety Board - which is conducting an investigation into the Ethiopian Airlines crash - it had decided to ground the flights "out of an abundance of caution and in order to reassure the flying public of the aircraft's safety".
The U.S.'s Federal Aviation Authority which had held out despite most other countries suspending Boeing's 737 Max model, said: "The grounding will remain in effect pending further investigation, including examination of information from the aircraft's flight data recorders and cockpit voice recorders." The FAA ruled after it analysed fresh satellite data from the crash site.
"We are supporting this proactive step out of an abundance of caution," said Dennis Muilenburg, Boeing's president, CEO and chairman in a statement on the company's website. "We are doing everything we can to understand the cause of the accidents in partnership with the investigators, deploy safety enhancements and help ensure this does not happen again."
The announcement from Boeing came minutes after US President Donald Trump issued an emergency order calling for all Boeing 737 MAX 8 and MAX 9 aircrafts in the country to be grounded. Three airlines in the U.S., Southwest Airlines, American Airlines and United Airlines have the Boeing 737 Max8 in their fleet.
Just five months before the Ethiopian Airlines crash, a Lion Air flight of the same make and model had crashed in Indonesia killing all 189 onboard. The two crashes involving the Boeing 737 Max8 model has led most countries from temporarily banning the aircraft in their airspace.
A CNN report mentioned that some pilots in the U.S. had previously raised issue with the way the jet has performed in flight. The report mentions that in one of the complaints, a captain reported an autopilot anomaly which led to a brief nose-down situation. In another complaint, a first officer reported that the aircraft pitched nose down after the autopilot was engaged during departure to which they responded with dis-engaging the autopilot and maneuvered the aircraft manually to continue the flight.
But more concerning is the fact that soon after the jet's induction, some U.S. pilots had filed a complaint with the FAA saying it is "unconscionable" that Boeing, the US aviation regulatory agency (the Federal Aviation Administration) and the unnamed airline would have pilots flying without adequate training or sufficient documentation. The same entry also charges that the flight manual for the Boeing 737 Max8 model "is inadequate and almost criminally insufficient."