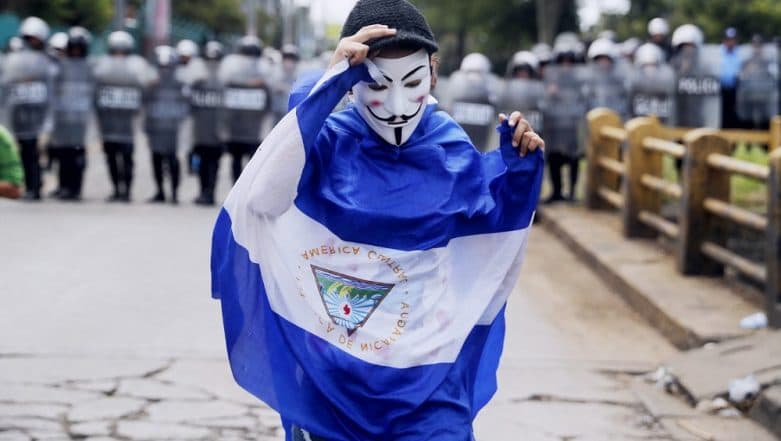 In what seems to a fitting end to 2018, Nicaragua joined the ranks of countries which have suppressed and attacked free press. Nicaraguan police were deployed to forcefully disperse a group of journalists protesting raids on a news website's office.
According to reports, at least seven journalists from international and national media were grabbed and kicked by police as they were protesting outside a police station in the capital city of Managua, complaining that recent raids carried out by police were illegal.
Riot police were deployed against the journalists who were protesting peacefully and they were charged with batons. Police had also raided offices of several other civil society organizations banned by the government and were reportedly ransacked.
The latest attack on journalists comes as independent journalism has been under increasing attack under President Daniel Ortega's rule. Nicaragua has been wracked by protests which Ortega has accused of being a coup against his rule. He has unleashed a months-long crackdown to silence information amid escalating protests against him.
Since April this year, hundreds of Nicaraguans have died in the political unrest that has swept the country. The Nicaraguan police have been accused of using live ammunition to try and subdue the crowds. Hundreds of protesters, members of NGOs and journalists have been jailed in the ensuing crackdown on dissent.
The Inter-American Commission on Human Rights has said that Nicaragua's "increase in repression against NGOs and independent media and journalists" in recent months is extremely worrisome.
Daniel Ortega has been in power in the South American country since 2007. Protests first erupted against him after the government announced changes to the country's social security system. The protests then spread and the demand has now become that Ortega step down as the country's president.
#Nicaragua: We remain deeply concerned at reports that the authorities are continuing to criminalize the legitimate actions of social leaders and others associated with the protests that erupted earlier this year.

📑 https://t.co/vfeG2J2uyE pic.twitter.com/GHhT6YgbgM

— UN Human Rights (@UNHumanRights) November 23, 2018
The situation in Nicaragua has drawn the ire of the United Nations with Secretary-General Antonio Guterres condemning the action of groups linked to Nicaragua's government. He said these groups were using "unacceptable" lethal force against citizens, and urged an end to the continued violence.