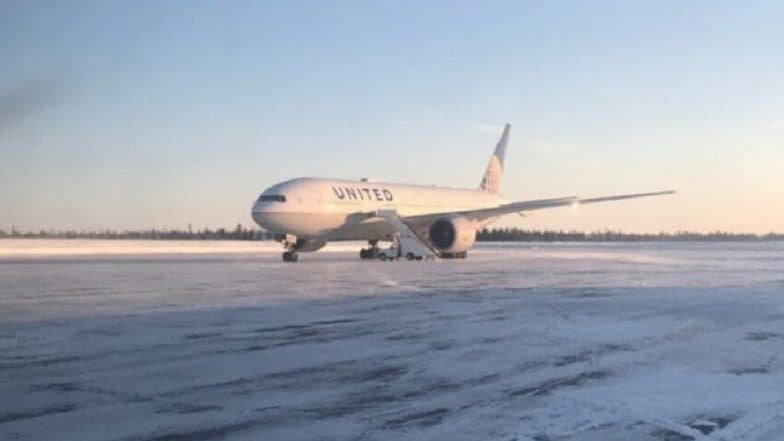 A United Airlines flight from Newark airport in New York bound for Hong Kong had to land in Goose Bay in Newfoundland, Canada due to a medical emergency. But what was expected to be a short stop extended into a more than 14 hour ordeal with 250 passengers stuck inside the aircraft which was sitting on the tarmac throughout the night.
The United flight first landed at Goose Bay airport in Canada at 3pm local time. A passenger was taken to a hospital due to a medical emergency. But before the flight could take off, the crew noticed a mechanical issue in the plane. The flight was again grounded.
Passengers were restricted to the aircraft as there was no customs officer to process the passengers and to let them off at the airport. At this time, the temperature outside was hovering between -14 to -26 degrees Celsius.
As the passengers were made to wait inside the aircraft for more than 10 hours, the airline crew began to run short of food and drinks. This situation led to a passenger live tweeting his experience.
Someone please help.@united https://t.co/iMxqKwGiJo

— SONJAY (@sonjaydutterson) January 20, 2019
Goose Bay officials just brought on Tim Hortons snacks and water. We were running out of food. Thanks to the local officials for their help.

— SONJAY (@sonjaydutterson) January 20, 2019
Its been a long long long long day pic.twitter.com/5Kz9EZpjPf

— SONJAY (@sonjaydutterson) January 20, 2019
Mechanics arrived late Sunday morning and attempted to fix the door while the passengers were still on board. But the issue was not resolved which finally led United Airlines to send in a rescue aircraft. Passengers were moved to the new aircraft after a wait of almost 18 hours.
Finally got off plane, got on a bus and now waiting to be taken to new rescue plane to fly back to Newark. 16hours since we landed in Goose Bay. pic.twitter.com/nBb0zKwOba

— SONJAY (@sonjaydutterson) January 20, 2019
Stepped outside to get on bus. The most painful, blistering cold ever. pic.twitter.com/xtLqDOHoBR

— SONJAY (@sonjaydutterson) January 20, 2019
Many passengers have called United's response to the entire episode "unacceptable." A Twitter account sprang up Sunday morning poking fun at the situation.
"On this week's epsiode of United 179, will the stranded 260 passengers have to switch planes in negative 29 degree weather OR can they fix the door? .... TUNE IN TOMORROW NIGHT TO FIND OUT!" @United #UA179 https://t.co/x6HImm26oA

— SAVE UNITED 179 (@United_179) January 20, 2019
But the fact is that Goose Bay airport in Canada is one of the most remote airports in the world and is mostly equipped to manage short haul flights. United Airlines operates flights from Toronto airport which is a three hour flight away and more could have been done for the passengers stuck onboard UA 179.