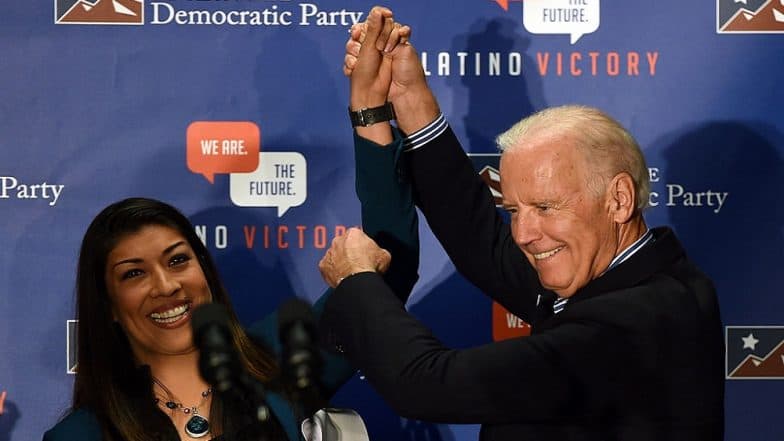 Washington, March 31: Former United States Vice President Joe Biden, facing accusation of outraging the modesty of a Nevada assemblywoman back in 2014, has refuted the charges. The Democratic Party veteran said he has, never in his four-decade of public life, acted inappropriately with any female supporter or colleague.
In the statement issued on Sunday, Biden said he cannot believe that he made the complainant uncomfortable in any manner during the said rally in Nevada on November 1, 2014. But, Biden added, he would respectfully listen to the allegations of Lucy Flores, who had ran for the Lieutenant Governor's post that year. Full Disclosure: Sex, Threats and Donald Trump.
"I may not recall these moments the same way, and I may be surprised at what I hear. But we have arrived at an important time when women feel they can and should relate their experiences, and men should pay attention. And I will," read the statement issued by Biden.
The former V-P, who has been part of the US Senate since 36 years, reiterated that he has always ensured that to act in the most suitable manner while extending a expression of affection towards the people he interacted with in public life.
"In my many years on the campaign trail and in public life, I have offered countless handshakes, hugs, expressions of affection, support and comfort. And not once - never - did I believe I acted inappropriately. If it is suggested I did so, I will listen respectfully. But it was never my intention," said Biden's statement.
About the Kiss Accusation
Flores, a member of the Democratic Party, wrote a column for the New York Magazine's The Cut, narrating the alleged incident involving Biden.
The Assemblywoman said Biden had touched her shoulders inappropriately, while smelling her hail. He further attempted to kiss the back of her head, Flores claimed.
"I was mortified. ... He proceeded to plant a big slow kiss on the back of my head. My brain couldn't process what was happening. I was embarrassed. I was shocked. I was confused," she wrote.
The charge against Biden has been levelled amid speculations of him throwing his hat into the 2020 US presidential race. The senior politician, who served for 8 years as V-P during the Barack Obama-era, is considered to be among the tallest Democratic Party leaders who could lead the bid to end Donald Trump's presidency next year.