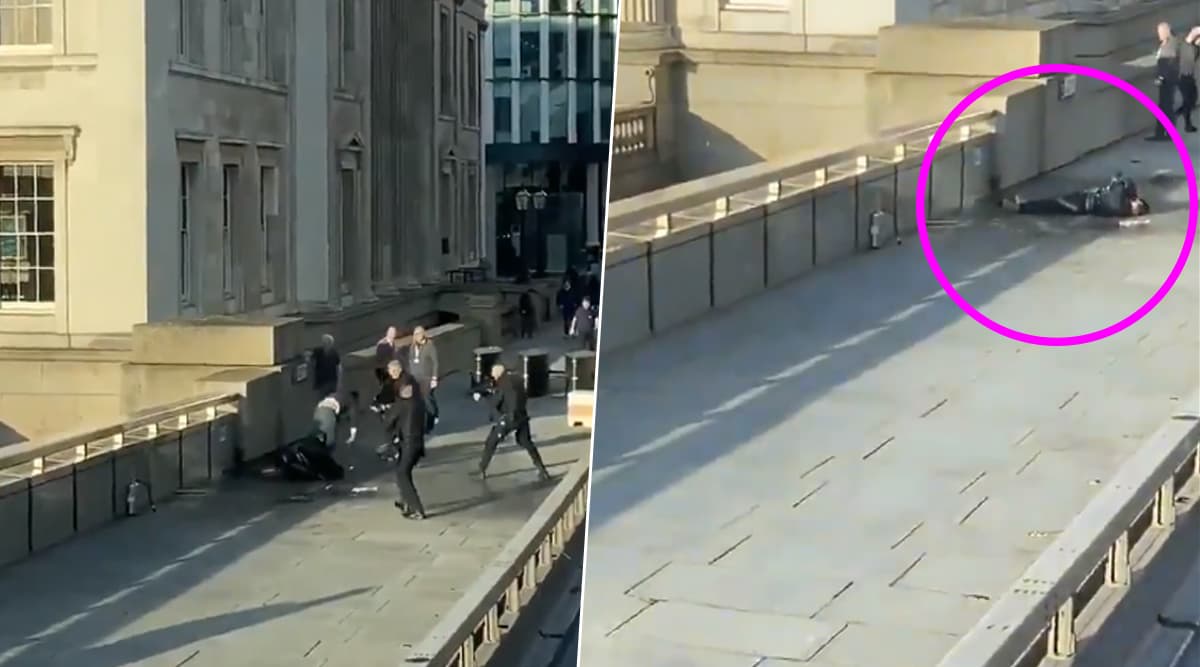 London, November 29: A video has surfaced on social media purportedly showing a person being shot on the London Bridge. The video showed a group of men cornering a person on the London Bridge. The individual was then shot by an armed man. The video, which is yet to be verified by authorities, also showed a man fleeing the scene with a knife in his hand. The iconic bridge was shut after an incident of stabbing followed by gunfire on Friday. LatestLY couldn't confirm the veracity of the viral video.
In a tweet, the Metropolitan Police said that several people were injured in the incident on the London Bridge and a man was shot. "At this stage, the circumstances relating to the incident at #LondonBridge remain unclear. However, as a precaution, we are currently responding to this incident as though it is terror-related. One man has been shot by police," read a tweet by the Metropolitan Police.
London Bridge Attack Video: (WARNING: Graphic Footage)
London Bridge Attack pic.twitter.com/1R6v0j1o51

— Wolfgang Kitzler (@wolfgangert) November 29, 2019
UK Prime Minister Boris Johnson, in a tweet, said that he was being updated on the incident and wanted to thank the police and all emergency services for their response. Home Secretary Priti Patel also tweeted that she was "very concerned" about the incident. London Mayor Sadiq Khan also issued a statement, describing the incident as "horrific attack". He said that he was keeping a close tab on developments.
London Mayor Sadiq Khan's Statement:
My statement on the incident at London Bridge. pic.twitter.com/UDL77f4uMK

— Sadiq Khan (@SadiqKhan) November 29, 2019
A BBC reporter on the spot said that he had seen a group of men involved a fight on the bridge, before the police reached the spot and shots were fired. "There appeared to be a fight going on on the other side of the bridge, with several men attacking one man. "Police then quickly arrived, including armed police, and then a number of shots were fired at this man," he reported.