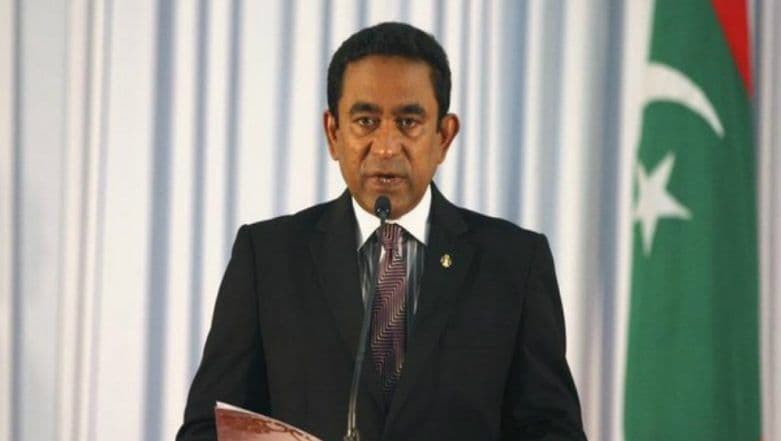 Toronto, February 19: A top court in Male has ordered the arrest of former president Abdulla Yameen on money laundering charges. He is to be held in state custody until the  completion of the investigations and the trial, as prosecutors charged that he could use his political clout to influence witnesses, according to local media.
This order was passed by the court after the prosecution informed the court that Yameen had already tried his hand at bribing a witness to change his testimony, according to news reports by Mihaaru and Avas.
The court's order was also based on serious charges brought against Abdulla Yameen by the Maldivian Police. Investigators found illegal payments totaling around US $1 million in Yameen's bank account. He is also alleged to have siphoned off a huge sum totaling up to US $79 million in tourism revenues, through a private company that is also being probed for indulging in corrupt real estate deals.
The court said the ex-president would be taken to Dhoonidhoo prison island located in Maafushi, an island near the capital Male.
However, Yameen's lawyer Abdulla Shiyaz dismissed the allegations of witness tampering and said: "We do not accept this [ruling]. We will do everything we can to fight it." The Anti-Corruption Commission "has so far failed to prove the $1m transferred to Yameen's account by the [private company] SOF Pvt Ltd was state funds obtained through corruption", the lawyers contended in a statement.
The former president is also being probed in a separate money-laundering case, in which he is alleged to have received  another sum of US $1.5 million in cash days before the presidential election in September 2018. Yameen had said in January that the one million dollars deposited to his private account was given to him by "various parties as campaign funds". The money was his, he said, adding he did not return the amount as there was no proof it was government money.