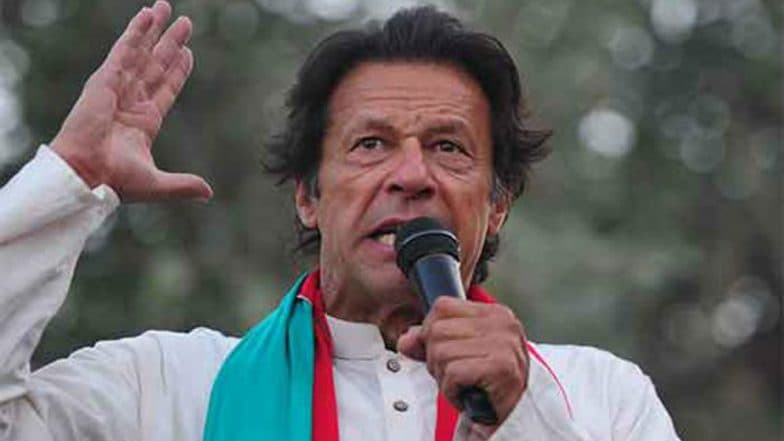 Islamabad, September 16: A police complaint has been lodged against students and youth who reportedly raised slogans against Pakistan Prime Minister Imran Khan's recent rally in Muzaffarabad, reports citing local media said on Monday. The FIR against the protesters could validate India's charge against Islamabad of "crushing dissent" in Pakistan-occupied-Kashmir (PoK). Integration of PoK Into India Next on Government's Agenda, Says Union Minister Jitendra Singh.
Khan had addressed a "Kashmir Hour" rally on Friday in Muzaffarabad, the capital of PoK. The rally, according to Indian media, had failed to elicit a response from the locals which was expected by the Pakistani establishment. Critics said the rally was a "flop", adding that Khan not only failed to galvanise PoK against India, but also "faced protests" from activists in the region.
'FIR Copy' Accessed by News Agency ANI:
Pakistan media reports that an FIR has been registered against students and youth for chanting slogans against Pakistan Prime Minister Imran Khan, during his Muzaffarabad (Pakistan Occupied Kashmir) rally. pic.twitter.com/1YmlgfQhfi

— ANI (@ANI) September 16, 2019
At the Muzaffarabad rally, Khan furthered his hardline rhetoric against India, stressing that a conventional war with the neighbouring nation looks a "possibility". He ruled out the option of dialogue, saying that the revocation of Article 370 has ended the prospects of  a bilateral solution.
The Pakistan PM accused New Delhi of committing "genocide" in Kashmir while imposing a communication blockade in the Valley. The alleged excesses being committed by the Indian forces, he added, would fuel extremism among not only Indian Muslims but Islamic believers across the globe. "1.25 billion Muslims across the world are watching," he said.