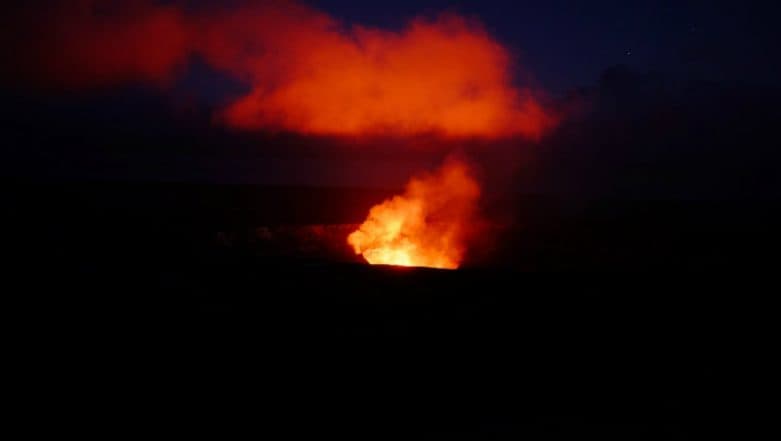 Hawaii, May 3: A 32-year-old United States Army soldier was critically injured on Wednesday after he fell 70 feet into an active volcano in Hawaii Islands. According to reports, the 32-year-old man climbed over a metal guard rail overlooking the Kilauea caldera in Hawaii Volcanoes National Park when the ground beneath him collapsed, and he fell into the volcano. The incident took place at around 6:30 pm local time. Hawaii's Kilauea Volcano Eruptions Intensify, Lava Reaches Pacific Ocean.
Luckily, he landed on a ledge, which prevented him from falling into the crater. Rescue workers rappelled down inside the volcano where they found the man on a ledge 70 feet below the rim. After the soldier was rescued, he was immediately airlifted out of the crater.  The US Army soldier was later flown to Hilo Medical Center where initially his condition was reported to be critical. However, on Thursday his condition became stable. Mount Ijen Volcano: 30 Treated for Exposure as Indonesian Volcano Belches Toxic Fumes.
The man belonged to Schofield Barracks of the US Army. He was on Hawaii's Big Island for training exercises. Chief Ranger John Broward at Hawaii Volcanoes National Park in a statement warned visitors not to cross safety barriers, especially around dangerous and destabilised cliff edges. Fear of Second Tsunami in Java and Sumatra as Indonesian Volcano Anak Krakatau continues to Rumble.
Kilauea caldera in Hawaii Volcanoes National Park is one of the most active volcanoes on Earth. Kilauea erupted nearly continuously from 1983 to 2018. Last year, it destroyed around 700 homes across 22 square kilometres. On May 17, 2018, the volcano explosively erupted at the summit in Halemaumau Crater, throwing ash 30,000 feet into the air.