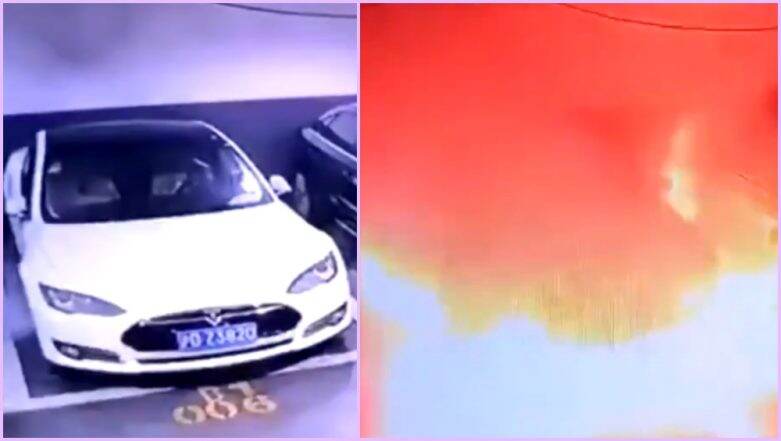 Buying a Tesla car has its own share of advantage and disadvantage too. Yes, disadvantages! While the automotive and Energy Company have been lauded for specialising in electric car manufacturing and promising the transition of a sustainable future, the American giant is struggling to prevent itself from coming across adverse experiences. Recently, a Tesla S model reportedly burst into flames in Shanghai, China while inside a parking garage. The tragic moment was captured in a CCTV footage; the video is now going viral. Surprisingly, this is not the first instance. Just last week, a Tesla Model X also burst into flames in Pittsburgh, Pennsylvania and burned for hours. While the short clip of the electric car is circulated everywhere with Tesla fans sharing their shocking reactions, Tesla owner, Elon Musk has sent a team for investigation, promising a verifiable answer on the same. Woman Tries to Fill Petrol in 'Electric' Tesla Car, Funny Video Of Confused Blonde From US Goes Viral. 
The footage of the incident shows smoke emanating from beneath the Tesla Model S before it fully engulfed in fire. Various media outlets further confirmed via the fire department's official statement on Chinese social media site Weibo that the flames destroyed the Tesla and two other vehicles parked next to it. Plane Crashes Over Tesla Model X, Indian-Origin Owner Says Car 'Saved' Them! 
Watch the Video Here
Good or bad, negative or positive I will post anything about Tesla or EVs in China. This happened today in Shanghai, China 🇨🇳 1st generation Tesla Model S caught Fire 🔥 underground car park.#Tesla #TeslaChina #ModelS #Fire #China #Shanghai #特斯拉 #中国 $TSLA pic.twitter.com/HOwMcvulV1

— Jay in Shanghai (@ShanghaiJayin) April 21, 2019
Another video was posted on Twitter, which shows the damage sustained by all three vehicles.
Aftermath hopefully we will hear from Tesla what truly happened. pic.twitter.com/DuFi0pW9dk

— Jay in Shanghai (@ShanghaiJayin) April 21, 2019
Tesla reported that the company was aware of the video and an investigation was currently underway. "We immediately sent a team onsite and we're supporting local authorities to establish the facts," a Tesla spokesperson was quoted saying in reports. "From what we know, no one was harmed," the official added.
Electric vehicles are reportedly much less likely to catch fire as compared to gas-powered cars, incidents like this do occur. The video comes at the moment, when Tesla is preparing to unveil its "full self-driving" tech at a conference in Palo Alto, California. The footage could likely outshine Tesla's latest autonomous driving software and hardware. Besides, if the fire will have a significant effect on the consumer in China remains to be seen.