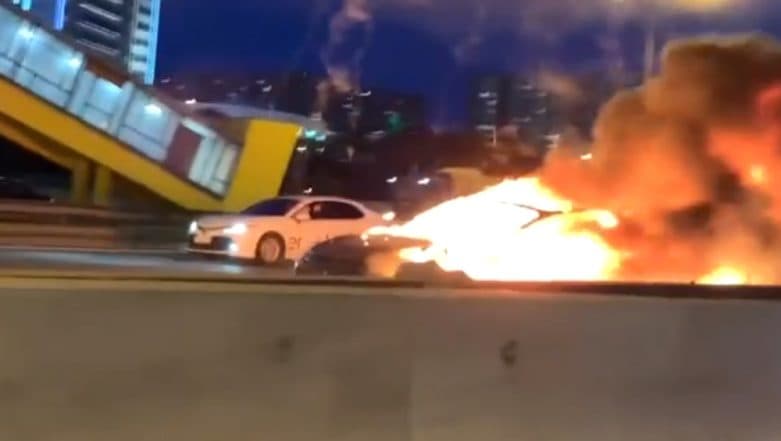 In yet another shocking moment, Tesla was captured burning in flames after the car faced fatal collision with a tow truck in Moscow, Russia. According to reports, the vehicle was on Autopilot at the time of the accident. Media report further stated that the driver, who is a Russian businessman, Alexey Tretyakov and his two children were severely injured and immediately taken into medical care. A passer-by captured this horrific scene and uploaded the video on the social media sites, triggering questions on the model's apparent promising manufacture. Although unconfirmed, but it appears that it was Model S. Fire Breaks Out at Tesla Complex in Fremont, California. 
The viral video shows the car, in flames, as it hit with a truck on Russian Highway. Shortly after the vehicle caught fire, a pair of further explosions can be seen occurring within its body, as captured in the clip. Reuters reported that Tretyakov broke his legs and his kids suffered injuries.
Watch the Viral Video Here:
It is not clear as to why and how the crash occurred. The investigation is on, and Tesla has not yet commented anything on the matter. Besides, the video sparks debate over the dangers of battery-based vehicles. While Tesla promises better service and rare chances of risks, recent reports of its models burning into flames are creating enough controversies. In April this, Model S was captured being burst into flames in Shanghai, China while inside a parking garage.