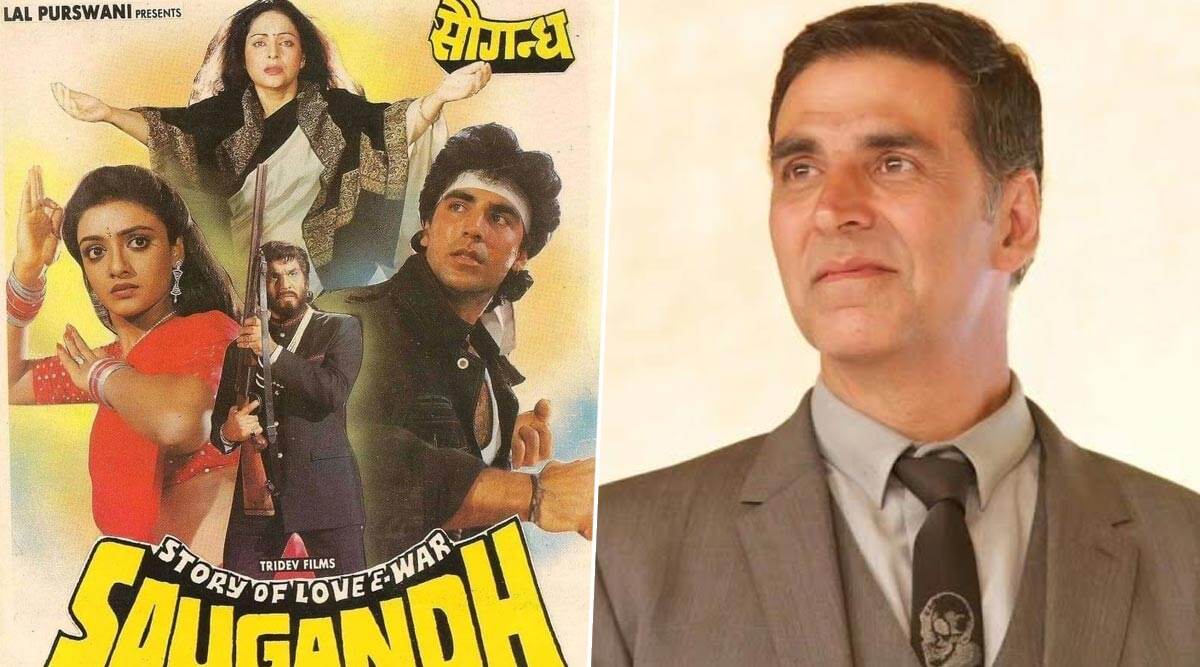 It has been almost three decades for Akshay Kumar in the Bollywood industry! The model turned actor turned superstar has successfully managed to establish his name as a fine performer and a bankable star in all these years. He is currently one of the highest paid Indian actors too. However, it took 29 years for him to reach to this position. His debut film Saugandh directed by Raj Sippy released on this day three decades ago. The fans on Twitter are busy congratulating him for the same under the hashtag #29YearsOfAkshayKumar and #29YearsOfKhiladi. Rohit Shetty Gets Simmba, Singham And Sooryavanshi To Give A Shout-out To Will Smith And Martin Lawrence's Bad Boys For Life (Watch Video).
The action pro star did not get it easy in the industry. From learning taekwondo to assisting a photographer for free for his portfolio to donning chef's hat, he has done it all. Obviously, later he found his share of stardom and controversies which he still continues to be a part of. But then, which lead star doesn't have  all that attached? Here, check some of the tweets of his fans celebrating his starry presence in the industry like a solid rock since so many years.
Fan Thanks Akki For Entertaining Everyone
Congratulations @akshaykumar sir on completing 29 years ...

its very difficult to be What U Are sir..

Thank u 4 always entertaining

nd giving us best movies wid best lessons ❤#29YearsOfAkshayKumar #29YearsOfKHILADI #29YearsOfSaugandh pic.twitter.com/ynsolB6IY8

— PUJA TIWARY. (@PUJATIWARY7) January 25, 2020
You Don't Need a Godfather, Says Fan
Biggest inspiration person for Middle class Families of India..you don't need any Godfather if you have a hard work and talent#29YearsOfAkshayKumar #29YearsOfKHILADI #29YearsOfSaugandh pic.twitter.com/RHXzldFkLm

— नितिन (@Nitin_Jha24) January 25, 2020
Fan on His Self Defense Programme
This is our Truely Original khiladi , proud to be his fan , he said " whats d need of self defence for women , but it is necessary because of the situation. " #29YearsOfAKSHAYKUMAR #29YearsOfKHILADIpic.twitter.com/b9NLpMhYTe

— 🌸 𝐒𝐚𝐑𝐮𝐮 🌸 (@Khiladi_ki_saru) January 25, 2020
Inspirational Journey of AK
From A Waiter To World's One Of The Highest Paid Actor

From No One To Padmashri & National Award Winner !!!!

He Is An Inspiration 🙏#29YearsOfAkshayKumar #29YearsOfKHILADI pic.twitter.com/Pq8QkNVmsQ

— वीर Aᴋᴋɪ (@me_birendra_) January 25, 2020
And This Meme Again!
Comedy King

Action King

Versatile King

only one #AkshayKumar #29YearsOfAkshayKumar #29YearsOfKHILADI pic.twitter.com/dUpdiINSE3

— Deb (@Deb_m7) January 25, 2020
Fan Quotes His Quote
"I'm not hungry for success . I'm hungry for good work. And that is how it is with most superstars. everyday I tell myself how fortunate I am to be where I am."- Akki sir

Congratulations AKSHAY SIR for completing 29 year in Bollywood 💪 #29YearsOfAkshayKumar #29YearsOfKHILADI pic.twitter.com/iG4dQ5DLN2

— Pramod Jaipal (@PramodJaipal1) January 25, 2020
Throwback Alert
More than 10,585days in hindi Film industry.. Great Human Being and thorough Professional, super fit and Disciplined... Way to Go #AkshayKumar

👏👏 #29YearsOfAkshayKumar#29YearsOfKHILADI pic.twitter.com/JzA0SiTAVC

— 🇯 🇪 🇪 🇹 (@Biswas0409) January 25, 2020
Akshay right now is also one of the busiest actors in line. He has more films than even the younger generation of actors. Sooryavanshi, Laxmmi Bomb, Prithviraj Chauhan, Hera Pheri 3, Bachchan Pandey, Bell Bottom are some of those. Let us see what the 52-year-old actor himself has to say about his long journey with major twists and turns! Stay tuned with us for more updates and congratulations Khiladi Kumar!