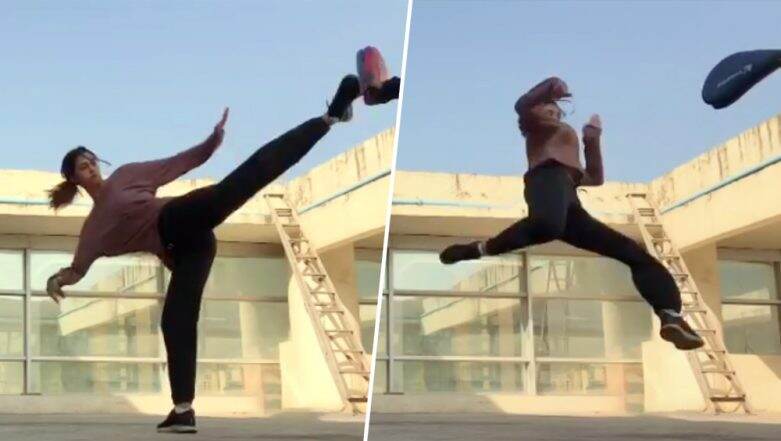 Actress Disha Patani always has something special to offer on her Instagram page. Apart from her gorgeous pictures and dance videos, now we even get to see the actress perform backflips and spins. Well, looks like alleged boyfriend Tiger Shroff's energy is rubbing off on Disha too. Talk about fitness and who can beat Disha Patani. The Baaghi 2 star is known to work hard in the gym and we must totally take inspiration from her.
In the latest video posted by Disha, she is seen working on the 'slap, spin tornado' combination and well as expected she is totally acing it. In the video we see Disha kicking it hard and her spin is just flawless, it seems like she's meant to kick some butt. Looking at that, we are sure there will be many filmmakers thinking about casting this beauty in an action role.
Here's Disha Patani's amazing 'slap spin tornado' video:
View this post on Instagram
Not long ago, the actress had also posted a video of her doing a backflip. Sharing of video of the same, she wrote, "first day of wall back with @nadeemakhtarparkour88 🌸 i always use to wish as a kid if i could do it one day, at last i made an attempt🌸 Each day makes a difference ❤️ keep pushing🌸🌸." Disha Patani and Kartik Aaryan in Anees Bazmee's Next - Read Details.
Take a look at Disha Patani doing a backflip off the wall:
On the work front, Disha will be next seen in Salman Khan and Katrina Kaif starrer Bharat. Apart from that, the actress has also bagged a film along with Kartik Aaryan which will be helmed by Anees Bazmee which will be a romantic comedy. Well, till then looks like we'll keep getting motivated looking at Disha's passion for fitness.