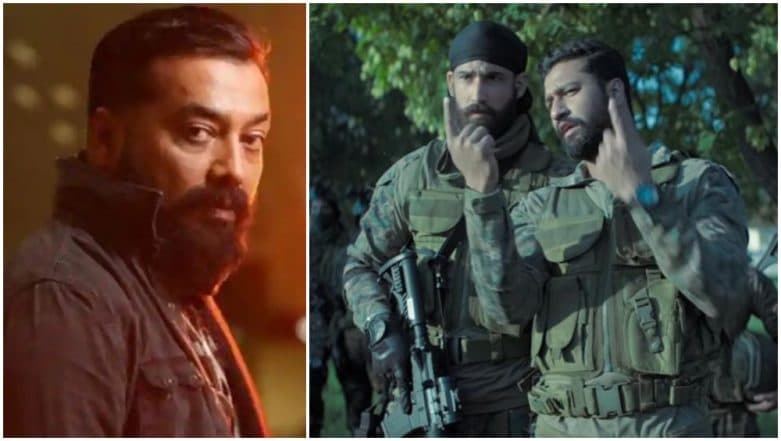 Uri The Surgical Strike is doing well at the box office, and has turned out to be the first hit of 2019. The war film, starring Vicky Kaushal in the lead, is directed by debutant Aditya Dhar. The movie is enjoying fairly good reviews, as well as a great opening weekend at the box office. However, the movie has also come on the bad side of a few, who allege that Uri is propaganda disguised as a war film and should be called out as such. Uri the Surgical Strike Box Office: 5 Reasons Why Vicky Kaushal and Mohit Raina's War Film Has Become a Winner!
Not Anurag Kashyap, though. The auteur film-maker, who is known for his fair share of controversies, has gone on Twitter to write praises about the film. The movie's lead actor, Vicky is dear to Anurag. Vicky's big screen debut was in Anurag Kashyap's Bombay Velvet and he had also given acclaimed performances in other Kashyap movies like Raman Raghav 2.0 and Manmarziyaan.
In one of these tweets, Anurag Kashyap claims that Uri is not a propaganda film, unlike some of the war films that have been made in Bollywood. Not sure, if Anurag has got confused between 'propaganda' and 'jingoism', but there is no doubt that Uri was a propaganda film, even if it is not in-your-face as its Friday competitor, The Accidental Prime Minister. Uri Movie Review: Vicky Kaushal's Josh-ila Performance is One Big Reason To Watch This Fallacious War Drama.
"Uri" is not a propaganda film. Any war film about the heroism of its soldiers will be patriotic by default. By that standards "Border" , LOC, Haqeeqat wore patriotism on its sleeve. War movies are either anti-war like "come and See" or patriotic . -1

— Anurag Kashyap (@anuragkashyap72) January 14, 2019
To which, Suparna Sharma, editor and film critic for Asian Age, tweeted back, poking holes into Kashyap's views.
If #Uri is nt a propaganda film, y no context? Y were earlier SurgicalStrikes by @_ManmohanSingh govt nt mentioned? Why did Uri pretend this SS was d reaction of a 'naya Bharat'? Whose NayaBharat was #Uri talking abt?why did #Uri lie abt Khaplang who died of heart attack in 2017?

— Suparna Sharma (@SuparnaSharma) January 14, 2019
Well, there is truth in the fact that India has carried out surgical strikes before Uri, and no one made a hue and cry about it. An article in Outlook India wrote, "India has performed similar operations at least three times in the past, going by official records. The first was half-a-century ago, when the army struck hard along the Chittagong Hill tracts of what was then East Pakistan to serve a blow to Mizo insurgents who were trained by their supporters in Islamabad and the US. The second was in 2000, following the previous year's Kargil War triggered by infiltration of Pakistani soldiers disguised as Kashmiri militants onto the Indian side of the Line of Control. The third was "some years later"—the officials would not disclose the exact time—in a nearby sector where the Indian army used tanks to attack Pakistanis who had ambushed a BSF patrol party and taken away the body of a jawan."
Anyway, the debate continues, as Anurag sticks to his stand on why Uri isn't a 'propaganda' film.
By default , any war movie , until and unless it's about the world war , will be nationalist . And I think when the defence minister uses the word surgical strike, he needs to refer to an earlier surgical strike to explain it to the audience. It will be just bad writing

— Anurag Kashyap (@anuragkashyap72) January 14, 2019
While Sharma argues that there were better ways to drive the point in the film, than what's shown.
That's not entirely true. Many war movies also see the human tragedy of it. And to your point Abt writing, they could have easily got Govind to say we've done this before, instead of Wrath of God.

— Suparna Sharma (@SuparnaSharma) January 14, 2019
And URI is not talking about maya Bharat, Uri is showing the defence minister talking about Naya Bharat , which is staying true to the jingoism of the current climate. The film doesn't deliberately provoke.

— Anurag Kashyap (@anuragkashyap72) January 14, 2019
Come on!! The film totally endorsed that it's a Naya Bharat which is aggressive and militant in extracting revenge. It lies about Khaplang, it compares the Surgical Strikes to Israel's mission at the Munich Olympics. It is endorsing the myth of NayaBharat and then celebrating it

— Suparna Sharma (@SuparnaSharma) January 14, 2019
The debate got even more interesting when Anurag argued that our sports movies are more jingoistic than Uri.
I find our sports movies more jingoistic... Uri had no unnecessary Tiranga, national anthem, Vande Ma Taram.. it had the war cry akin to the war cry in the army. Not a single thing out of place whereas the filmmaker could have easily played into it.

— Anurag Kashyap (@anuragkashyap72) January 14, 2019
Again, jingoism and propaganda are two separate terms, which was pointed out by Sharma.
Yes, but as someone who understands films so well, surely u see & know how powerful subtle messaging can be. #Uri is smart &sophisticated in its messaging. It doesn't lehrao Tiranga. By it is totally devoted to selling a certain narrative put out by a certain party, politician.

— Suparna Sharma (@SuparnaSharma) January 14, 2019
Anurag had then to further defend his stance on the film, while stating that Uri showed the politicians the way they are (the movie has actors masquerading as Narendra Modi, Arun Jaitley, Manohar Parrikar etc) so it is far more realistic. Uri The Surgical Strike: PM Narendra Modi, Manohar Parrikar, Arun Jaitley – 5 Politicians Who 'Appear' in Vicky Kaushal's War Film (Spoiler Alert).
I would say that it even represents the politicians they way they were at the time and credited themselves. It's the times we live in. I never read anyone call Border a propaganda film . Any army across the world is driven by their nationalist feelings .

— Anurag Kashyap (@anuragkashyap72) January 14, 2019
Another Twitter user pointed out the fallacy in his observation.
' would say that it even represents the politicians they way they were at the time and credited themselves' This is incredulous! That way, we can give whatever meaning we want to anything. The political context is very much imp. I will judge the makers & Kaushal's poor choice

— K (@rehack20) January 14, 2019
...Also unlike Kargil. How the events unfolded is highly uncertain. If we look at the track record of government esp. this Modi menace we have, is unleashing unseen before disruption to institutions. So when the facts themselves are in question, you defending the movie is silly.

— K (@rehack20) January 14, 2019
So which side of this argument are you on? Is Uri a propaganda movie or not?
To give you some context of the whole argument, Uri is based on the surgical strikes carried by the Indian government, 11 days after four terrorists infiltrated into a military camp in Uri, Kashmir in 2016 and killed 19 of our men, before being killed themselves. The scope and scale of the surgical strikes are still being argued upon, as the government insists on the narrative is true, while its detractors claim there is no proper evidence to prove it. Also considering that Uri: The Surgical Strike comes mere months before the April elections, the timing of the release is brought into question to validate BJP's claim in being the bigger party during the elections.