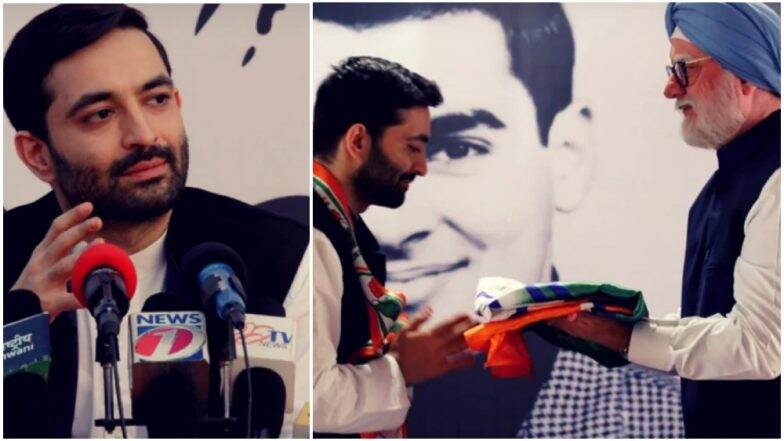 After embracing Anupam Kher as former Prime Minister, Dr Manmohan Singh and later braving our hearts to see Vivek Oberoi play Narendra Modi, it's time we focus on a biopic on the life of politician Rahul Gandhi. Yes, a biopic on the life of Congress scion was in the pipeline for quite a long time and its official teaser was unveiled today afternoon. As the name suggests, the movie essentially revolves around the life of Rahul Gandhi and his political journey. And just in case you are wondering if there's some known actor who will step into Rahul's shoes for this biopic, then let us shatter your hopes with a big no. Is Paresh Rawal A Better Choice Than Vivek Oberoi To Play PM Modi In A Biopic? Vote Now!
The four-minute long teaser shows a young Rahul trying to fight his inner demons who haunt him after the assassination of Indira Gandhi and his father, Rajiv Gandhi. It further focusses on his political journey, why he's slammed by BJP leader, Narendra Modi and how he turns out to be common man's Messiah in the end. While there's nothing to cheer in this first teaser, the approach itself seems juvenile. Blame it on the actors or director Rupesh Paul's take on the politician but the outcome is less appealing and more amusing. Wonder if the real-life politician should slam the makers for making a joke out of his life and efforts.
Watch the teaser of My Name is RaGa right below
In a press release, the director refused to tag his project as some sort of biopic. "The movie has no intentions to glorify Rahul or to demystify him. It's the story of a coming back of a human being who had been ridiculously attacked. Anyone who has fearlessly confronted defeat and failure can relate to this story. In that sense, I don't want to call this a biopic, it's a story of any man who becomes unstoppable after he wins over a catastrophic life," the director said. Vivek Oberoi Begins Shooting for PM Narendra Modi Biopic -See Pic.
Aswini Kumar plays Rahul Gandhi while Himant Kapadiya is Narendra Modi and Raju Kher is former Prime Minister Manmohan Singh in the film. My Name is RaGa has just started rolling and the makers were able to release its teaser already (how convenient is that). Honestly, after watching the film's teaser, Vivek Oberoi's attempt as Narendra Modi looks like a gem suddenly.