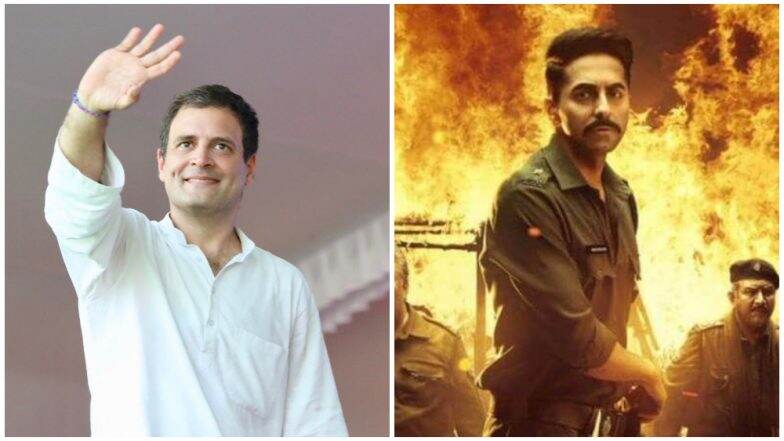 What is it about influential people doing regular things that gets the internet talking about them. Recently the internet was going gaga over Deepika Padukone producing her ID to an airport staff who asked for it. Now, Rahul Gandhi watching a film in a theatre has caught everyone's attention. A video of Rahul Gandhi is going viral on social media platforms, in which he can be seen watching Ayushmann Khurrana starrer Article 15. He has no extra security or an entourage around him, which apparently has impressed many. The comments section of the video posted by Viral Bhayani is brimming with positive words. Article 15 Box Office Collection Day 7: Ayushmann Khurrana's Crime Drama Ends Week 1 on a Strong Note, Collects Rs 34.21 Crore.
Article 15 has been directed by Anubhav Sinha. Ayushmann Khurrana plays a cop in the film who is investigating a case that's being mishandled as victims are of a supposed lower caste. The movie tells us the impact of caste-based discrimination on our society. Article 15 Movie Review: A Brilliantly Cast Ayushmann Khurrana Pricks Your Conscience in Anubhav Sinha's Gripping Social Drama.
Watch Rahul Gandhi's Video Here:
Rahul Gandhi had formally resigned as the Congress President on Wednesday. The politician had tweeted out to the public what was his reason to step down from the position in Congress. His first step to blow off some steam was to watch the movie at a theatre in Delhi. Someone from the audience recorded a video of Rahul Gandhi and posted on social media.