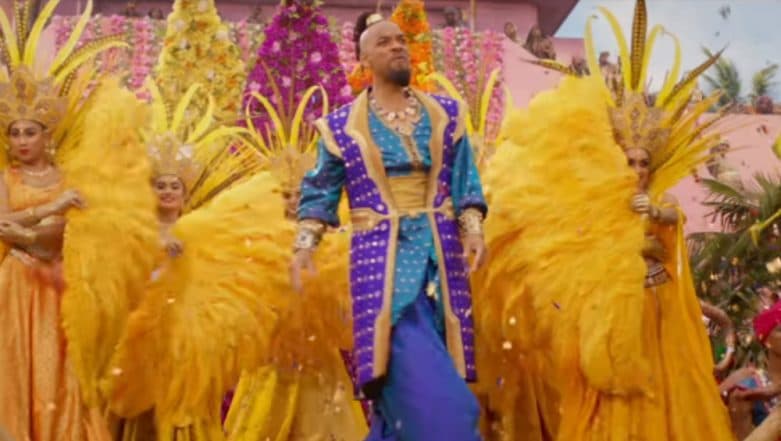 Disney's latest live-action film up for release this month is the much-talked-about Aladdin. A remake of the 1992 film, the new film stars Will Smith, Naomi Scott and Mena Massoud in lead roles. Despite there being several social media chatter surrounding Will Smith's 'Genie' and even Mena Massoud's casting as Aladdin, the film has managed to receive a lot of hype. Yet, comparisons with the first film continue to hold the film back. The film's latest offering has been the reprised version of the famed "Prince Ali" song and according to fans, it comes nowhere near to the original number with Robin Williams. Aladdin New Clip: Will Smith Recreates Robin Williams' Song Prince Ali from the Original Film – Watch Video
A clip of the new version of the song was released last night and fans could not stop criticising it. It almost seems like Will Smith's India trips have made a strong impact on him and hence the heavy Bollywood influence on this song. Fans are unhappy that the song-dance number has Will Smith in his human form as opposed to him shapeshifting into Genie like the original.
Fans have expressed their disappointment over Twitter and a user even said, "Just watched the new "Prince Ali" number with Will Smith. Sigh, I just miss Robin Williams so much, guys." According to a lot of users, it is also lead actor Mena Massoud's awkward expressions that fail to make this song what it's supposed to be.
Take a look at some of the reactions on Prince Ali song:
#Tweet1:
Why is it that when you speed up #princeali to 1.25 it's an actual bop?

What were they thinking? God this is gonna be a trainwreck of a film. Predicting it now it'll be a mess from a technical level upwards. And if it isn't I'll be the FIRST to say otherwise I swear.#aladdin pic.twitter.com/jmbs1ypJdp

— Ace Coordinator Mary (@CoordinatorMary) May 14, 2019
#Tweet2:
After watching that #PrinceAli clip... yikes. Can we just get a re-release of the animated movie and watch that instead? #Aladdin pic.twitter.com/yGHuK13WET

— MonicA On Air (@MonicaOnAir) May 14, 2019
#Tweet3:
To be fair, its not Will Smith's fault that #PrinceAli sucks. Its everything. Everything about this number is bad. Low energy, bad CGI animals and special effects, the stunted choreography, and yeah, Smith ain't selling it. But look at what he's been given to work with!

— Fuchsia Reign 🦑✨ (@fuchsiareign) May 14, 2019
#Tweet4:
After that really Auto-tuned version of #PrinceAli came out.....that's the nail in the coffin for this movie for me. I'm glad Will Smith had a lot of fun making this, I'm sure I would've too in his situation, but goddamn this looks so pointless and uninteresting #Aladdin pic.twitter.com/09k8PJQyck

— Weird People 27 (@WeirdPeople27) May 14, 2019
#Tweet5:
Disney just keeps butchering classics. 😂 #PrinceAli YIKES.

— Listennchill (@listennchill) May 14, 2019
Directed by Guy Ritchie, the film is all set to release in theatres on May 24. Considering the impact of the original film, the response for the live-action remake has been poor. What did you think of the "Prince Ali" song? Tell us in the comments below.