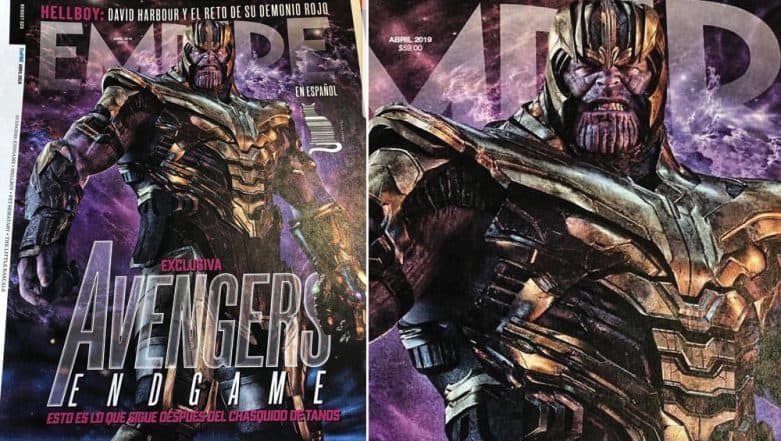 Ever since the Avengers: Endgame trailer came out a couple of days ago, it has been difficult to contain their excitement for the Marvel fans. Watching all the remaining superheroes suit up for the challenge once again for a fight against Thanos was inspiring. While we have been introduced the new looks of all the Avengers in the film, we finally got a glimpse of what Josh Brolin's Thanos will look like in the film. A magazine cover issued for April had its cover leaked on the internet featuring Thanos' new look.
On the cover of Empire magazine, Thanos is seen armoured, wearing the infinity gauntlet intact and looking fiercer than before. He certainly looks like he's saying, 'Don't mess with me." Avengers: Endgame New Trailer – 5 Scenes That Left Us Whistling (Watch Video).
Take a look at the leaked cover here:
Even as the fans are going crazy, finally getting to see what the Avengers will have to face this time in the finale, there have been some questions raised about the infinity gauntlet. According to several fans, the gauntlet was almost being completely ruined following Thanos' universe-altering snap. But it is interesting how in this leaked picture, it looks totally intact. Avengers: Endgame New Poster Has Captain Marvel, Iron Man, Hawkeye, Ant-Man Assemble with Other Superheroes – View Pic.
With merely a few weeks remaining for the release of the much-anticipated film, there have been all sorts of fan theories being thrown around. The film will be releasing on April 26 in theatres. In India, the film will also be releasing in other regional languages such as Hindi, Tamil, and Telugu.