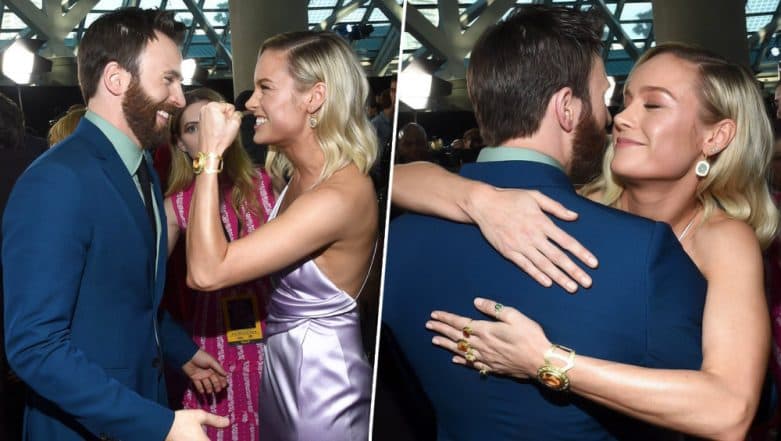 The Captain and Captain's meeting at the red carpet of Avengers: Endgame was no short of legendary. Chris Evans and Brie Larson who play Captain America and Captain Marvel in Marvel Cinematic Universe were spotted chilling at the premiere. Needless to say, they looked so good together that it actually made us wish that the rumours about him having hots for her were true!
In case you don't remember this, a few weeks ago, reports of Evans and Michael B Jordan, rooting to date Brie Larson started doing the rounds. As all three of them belong to the Marvel fraternity, it is no surprise that they would eventually cross paths. Especially, Chris and Brie since she does join the Avengers in the upcoming film. Apparently, there were reports suggesting that they both wanted to date Larson. Her rep confirmed that all those reports were baseless rumours. However, from the looks of how Chris and Brie greeted each other, we so wish something happened here!
Chris and Brie both expressed gleeful expressions as they met each other. In one picture, Larson is seen posing as Captain Marvel. Another picture has them hug it out which really made us blush! You can check out their pictures from the purple carpet at the Avengers: Endgame premiere.
captains #AvengersEndgame pic.twitter.com/GI1CzP617r

— stefany (@ifavhermione) April 23, 2019
The Avengers: Endgame premiere was quite lit with all celebrities from the MCU fraternity in attendance. Stars such as Robert Downey Jr, Chris Hemsworth, Paul Rudd, Mark Ruffalo, Sebastian Stan, Dania Gurira, Scarlett Johansson, Josh Brolin, Benedict Cumberbatch, Chris Pratt, Bradley Cooper and others were at the premiere. The film releases on April 26.