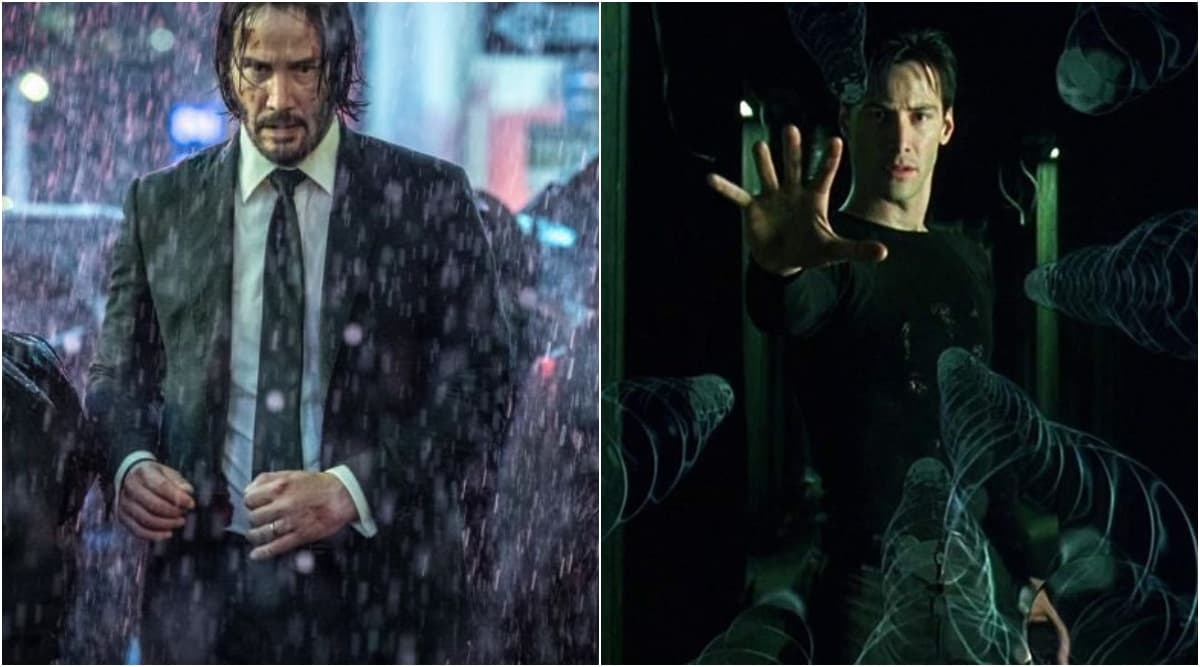 Keanu Reeves is better known as the internet's boyfriend and if you thought him coming back with Matrix 4 was the best news ever, we have an even better story for you. 2019 has been a phenomenal year for Reeves what with the success of John Wick 3 and the announcement of John Wick 4. Although, the big surprise that Warner Brothers dropped when it announced the release dates of their upcoming project was that John Wick 4 and Matrix 4 will be releasing on the day. Both films are slated to release on May 21, 2021. Considering that both the films are part of the biggest franchises starring Reeves in the lead, fans are now finding it hard to contain their excitement.
As soon as the news of John Wick 4 and Matrix 4 releasing on the same day hit the news, Reeves fans took to social media to rejoice and even termed May 21 as 'Keanu Day' or 'Keanu Reeves Day'. The buzz for Matrix 4 has been huge considering Reeves will once again team up with Carrie Anne Moss for the film. The new additions to the cast include Neil Patrick Harris, Jonathan Groff, Yahya Abdul-Mateen II.
Celebrating the release of two epic Keanu Reeves films on the same day, Twitterati got creative and not only came up with memes but also found the perfect gifs to react to this news. Here's looking at the social media reactions to the John Wick and Matrix 4 clash.
Couldn't Be More Epic!
may 21 2021

battle of

john wick vs neo

baba yaga vs the one#KeanuReeves pic.twitter.com/rostQMFBx1

— suzclo (@suzclo) December 12, 2019
A Day at the Theatre:
In conclusion, find me at the nearest theater #KeanuReeves https://t.co/KzzX1GsLkz

— Navneet Kaur (@knavneet85) December 12, 2019
And It's Going to Be the Perfect Double Feature:
Looks like a double feature night #KeanuReeves #KeanuReevesDay #may21 pic.twitter.com/BDPR60jThw

— Noel (@nore2nv) December 12, 2019
Keanu Day Schedule:
may 21 2021

dont call me

dont text me

dont email me

dont expect me to go into work

my day belongs to #KeanuReeves pic.twitter.com/o1FUxsNljI

— suzclo (@suzclo) December 12, 2019
Prepping for Keanu Reeves' Double Feature:
me and my dog are already getting our butts conditioned to sit for 4-5 hours straight in those cinema chairs for #KeanuReeves double release of #JohnWick4 and #Matrix4 pic.twitter.com/Owtzmyt2GN

— suzclo (@suzclo) December 12, 2019
Let's Make it Official:
2019 " the year of keanu reeves"

may 21 2021 "hold my beer"#KeanuReeves pic.twitter.com/IJE6VAWdLl

— suzclo (@suzclo) December 12, 2019
Well, we bet you are excited too considering these are set to be two of the most epic films starring the actor. We can't even think of what ruckus advance bookings are going to cause after this!