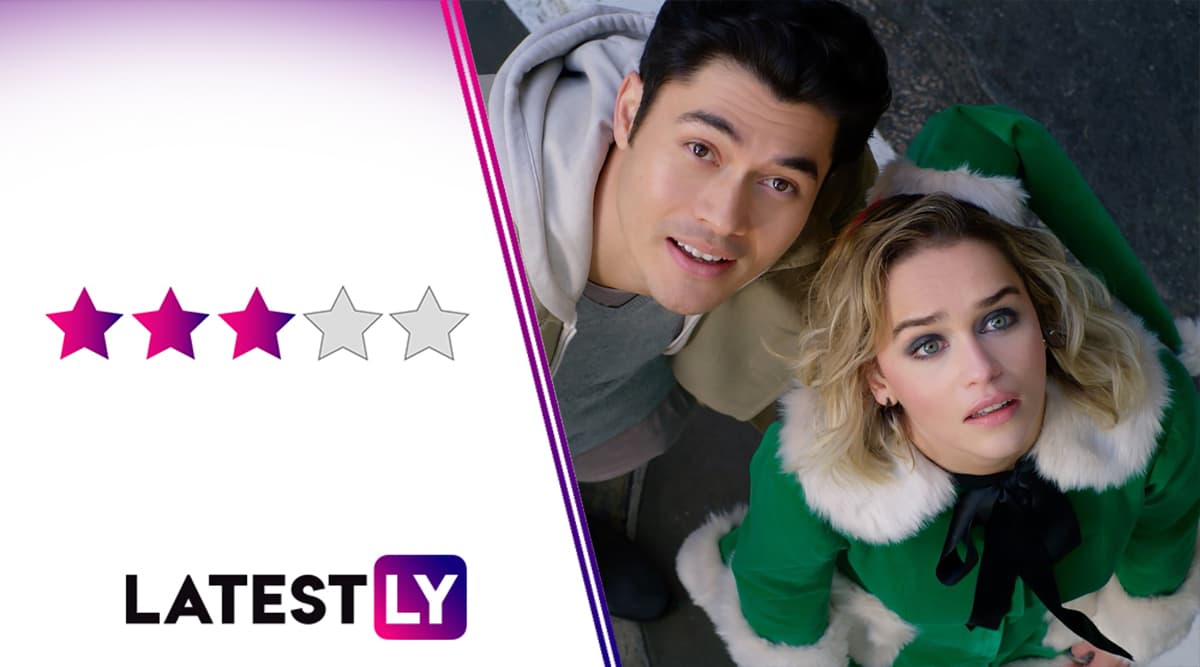 In the time where heavy-duty movies with too many realistic situations are leaving the audience in a dark place, a light-hearted romance with Christmas as it's backdrop easily becomes likeable. Not that the other movies aren't all that good. In fact, there has been a consistent rise in more motivating and self-love movies along with a good jolt in the superhero fandom. But after some time, you just want to kick your shoes, get yourself a nice tub of popcorn or ice cream and watch a feel-good romance drama. Hence, Emilia Clarke and Henry Golding's Last Christmas comes as a blessing for all. Directed by Paul Feig and written by Emma Thompson along with Greg Wise, here's how Last Christmas has fared.
The story begins with Kate (Madison Ingoldsby as young Kate) singing as the lead in a church choir while her proud mother, Petra (Emma Thompson), father Ivan (Boris Isakovic) and sister Marta (Lucy Miller) watch her from the audience. The scene then shifts to Kate (Emilia Clarke) in her adulthood, struggling to find a place to crash every single day, only to be met with some really messed up luck. It always results in her being kicked out of the apartment where she lives and the friends who cannot put up with her. To sustain herself in London, Kate works as an elf in a lit Christmas shop during the holidays. Despite her unprofessional nature, her employer, Santa (Michelle Yeoh) continues to give her second chances.
Last Christmas New Trailer: Emilia Clarke Croons the George Michael Melody, Falls for the Ever-So-Handsome Henry Golding in This Romantic Drama (Watch Video)
All her bad luck and self-loathing finally takes a 180 degrees to turn when her paths cross with Tom Webster (Henry Golding). Tom has an air of eccentric which initially bores Kate but eventually starts to appreciate and even like. During her camaraderie with Tom, Kate learns many things about herself, her family and what needs to be done to mend her ways and heal herself. Of course, there are several twists involved, some which can be predicted but irrespective of those twists, the film does manage to bring out the bigger message, self-love is the best way to heal oneself!
Director Paul Feig has certainly brought forth a feel-good holiday movie that is sure to set the box office ringing this Christmas. The message of the film is so powerful that the few loopholes seem insignificant. The idea of self-love is something many talks about but only a few follow. Being so muddled in one's own problems to not see the good things in life is a big conundrum that individuals face in today's time. However, Last Christmas urges you to peer at the insignificant things in life and try to make meaning out of it. Due credit also goes to Emma Thompson and Greg Wise for bringing forth such an idea. It is heartwarming and poignant.
Wait, What? Game of Thrones Actress Emilia Clarke Was Signed for Robert Downey Jr's Iron Man 3
It's fascinating how they have given such a tribute to the late singer, George Michael. Using some of his best work, the makers have added perfect music to situations and scenes that make them more meaningful. Perhaps a George Michael fan would definitely fancy the way his songs have been used in the film. Although many might find it overdone but it's not half bad. In terms of performance, they're all good! Emilia Clarke as the unlucky, troubled adult trying to make some sense out of her life and existence is entertaining. Her struggles are relatable, even when she has to face her mother, Petra, played by Emma Thompson. Henry Golding is dashing and makes for a great tour guide in the movie. Even Michelle Yeoh as Santa, Kate's employer, is amazing with her strict demeanour that calms the minute she finds the man of her life.
To me, the protagonist's conflict does seem a little unclear. Maybe the writers could have written a better plot in terms of why Kate's character feels the way she does or why she has trouble with certain people around her. Also, would have loved to see more of Emma Thompson's role as Petra. That too seemed a little too easily explained when they could have explored more of it.
Yays
- Emilia Clarke is adorable as an unlucky elf with her set of baggage
- Emilia Clarke and Henry Golding's chemistry is simply cute
- George Michael's music fit perfectly into necessary scenes
- Emma Thompson's performance as the Yogoslavic mum
- Good comic timing
- A very good and important message
Nays
- The conflict of the storyline is not strong enough
- Clarke's conflict as Kate/Katarina is not explained properly
- Some parts of the movie get boring
- Not much has been explored of Thompson's character as Petra
Final Word
It is time to take a break from serious movies and shift focus to some romance in life. What's amazing about Last Christmas is that it doesn't talk about romance with an outsider but with oneself. It is a concept that has previously been explored in Bollywood but whoever considered that to be a bad thing?
The story is no rocket science for which you might have to rack your brains to comprehend. It has more to do with understanding oneself and trying to better oneself by throwing away the phones and doing things that make you happy! It certainly is a cute movie and should be watched. People who are excited for Christmas will be super stoked with the decorations and the vibe of the film. Not to mention the beautiful ode to George Michael.