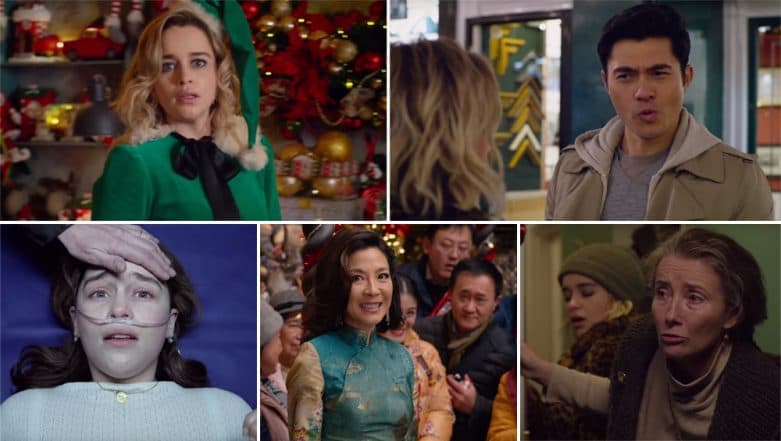 It's amazing how Emilia Clarke transforms from being the feisty mother of dragons in Game Of Thrones to someone like the clumsy, messy Kate in Last Christmas. After the first trailer showed that Clarke is all set to bring yet another romantic drama after Me Before You, the second trailer of Last Christmas has now been released. The film stars Emilia in the role of Kate who hates her job of working as an elf in a year-round Christmas decorations store. The film also stars Emma Thompson as Clarke's mother and the Crazy Rich Asians' lead Henry Golding as Clarke's love interest.  Wait, What? Game of Thrones Actress Emilia Clarke Was Signed for Robert Downey Jr's Iron Man 3.
Last Christmas also features the music of George Michael, including the bittersweet holiday classic of the film's title. It will also feature brand new unreleased material by the legendary artist which has got fans excited even more for the film. The film shows Emilia's character to be that of an aspiring singer and in the trailer, we see her crooning the classic, "Last Christmas" and she sounds beautiful. The trailer does suggest that the film might not be the like the typical rom-com it appears to be.
Check Out the Trailer Here:
Clarke's role also closely mirrors her harrowing real-life experience. In a scene in the trailer, Kate tells Tom, she nearly died of an unnamed illness. Earlier this year, Clarke too made a shocking revelation that she herself nearly died from a brain aneurysm while shooting the early seasons of Game of Thrones.  Game of Thrones Actress Nathalie Emmanuel Calls Co-Star Emilia Clarke a 'Beast' for This Reason!
The film has been directed by Paul Feige who is best known for directing films such as Bridesmaids and Ghostbusters. Last Christmas is all set to spread its cheer in November as it releases on November 8 in US cinemas and on November 15 in UK cinemas.