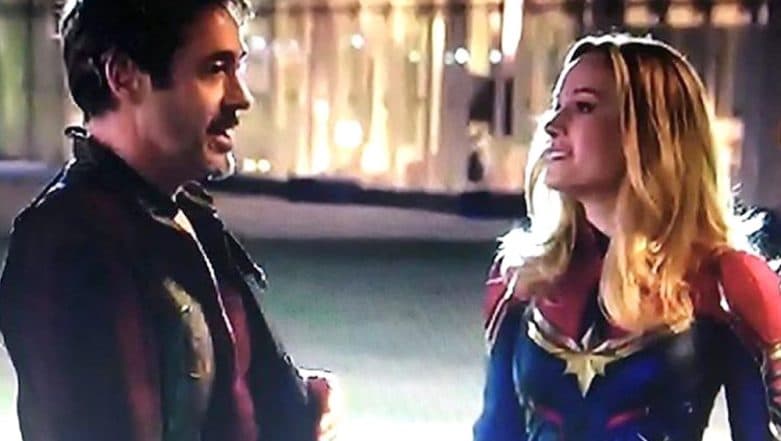 This year has been a treat for Marvel fans, what with the release of two of their biggest films, Captain Marvel and Avengers: Endgame. Even as the latter one left most of the fans in tears thanks to not the just culmination of the franchise but also because they had to bid adieu to one of the most-loved superheroes from the films, Iron Man aka Tony Stark. Post the release of the big finale to the Infinity Saga, Tony Stark seems to be a touchy topic for fans. Although, we have something that could cheer you up. Avengers: Endgame Worldwide Box Office Collections: Marvel Film Crosses $2.6 Billion, Needs THIS Much More to Beat Avatar.
In a few stills that have been doing the rounds on social media, we spotted pictures of Iron Man (Robert Downey Jr) and Captain Marvel (Brie Larson) together. These are from a deleted scene between the duo which could be either from Avengers: Endgame or Captain Marvel. In the pictures, we see Robert Downey Jr and Brie Larson in a conversation and we can't help but wonder what Iron Man and Captain Marvel had to discuss. As soon as these pictures got leaked on social media, fans have been trying to figure out what this scene could have been. Considering that a BTS featurette of Captain Marvel was released recently, this picture could be from the same.
Take a look at the pictures here:
Both Captain Marvel and Avengers: Endgame performed exceptionally well at the box office not only in India but also globally. Avengers: Endgame has currently raked in over $2.6 billion worldwide and is at the verge of becoming the highest grossing film of all time.
Recently, reports suggested that Brie Larson's Captain Marvel will become the new leader of Earth's Mightiest Heroes. In the new Captain Marvel behind-the-scenes featurette, Marvel Studios head Kevin Feige is heard saying, Captain Marvel is about to take the lead, and be at the forefront of the entire Marvel Cinematic Universe. Well, we can't wait to see what lies ahead.