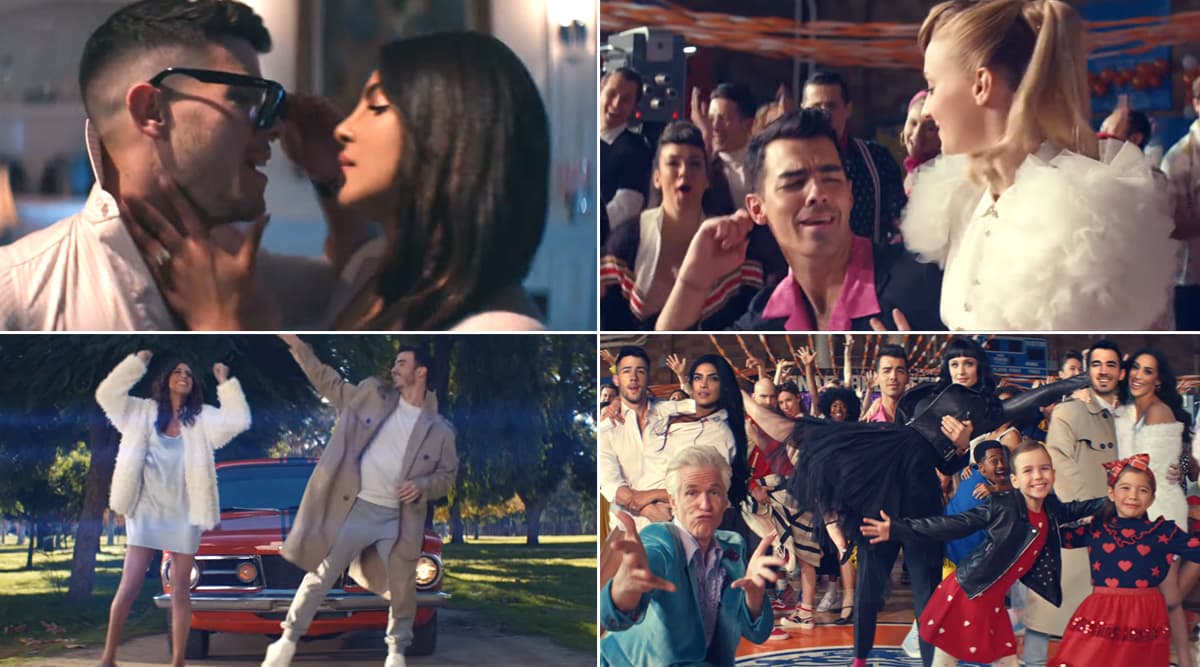 And finally, we have the latest song by the Jonas Brothers here! They teased us with the glimpses of What A Man Gotta Do video song, they gave us from time to time. The video features the Jonas Brothers Nick, Joe and Kevin and their wives Priyanka Chopra, Sophie Turner and Danielle Jonas. We are happy to report that they all nailed the song once again with their prettiness and quirkiness! Jonas Brothers Are Keeping up With the Kardashians in This Hilarious TikTok Recreation of the Sisters' Legendary Fight (Watch Video).
In the video, we can see Priyanka and Nick imitating a look from Tom Cruise's 1983 film, Risky Business. We see him grooving pantless in the song, serenading PeeCee. She then joins him in the same look. Their chemistry was so beautiful that we wonder why didn't they have this goofiness and romantic moments in some individual song before? Joe and Sophie are in some kind of dance competition, similar to that of what was shown in Grease released in 1978. They are totally flirty and cute in their parts.
When it comes to Kevin and Danielle boombox scene, don't tell that us that it did not remind you of 1989's Say Anything…! The duo is sweet as always and not to forget to mention, extremely hot! The beats and the lyrics of the song were catchy and they will run through your mind if you listen to the song even twice on loop. However, the best part of the whole video is the behind-the-scenes cuts! They were damn goofy and raw and we wish to see an entire video of the BTS moments ASAP! Check out the video song below.
Jonas Brothers' Whatta A Man Gotta Do
This song is definitely one of the best songs shelled out by the Jonas Brothers after their reunion. The track that is as good as "Sucker," deserves to make it to the top of the chartbuster! What do you say?