International singing sensation, Katy Perry had arrived in India to perform at the OnePlus Music Festival in Mumbai. After her smashing performance at Mumbai's D Y Patin Stadium on Saturday, November 16, the "Roar" singer was spotted at the Mumbai airport as she left for US and new video that's doing the rounds on the internet shows ignoring the security personnel at the airport, asking for her passport, which is a standard procedure. Katy Perry Sets the Stage on Fire, Performs Her Latest Single 'Harleys in Hawaii' Live for the First Time at OnePlus Music Festival in Mumbai (See Pics and Videos).
In the video, Katy can be seen giving an autograph to a fan and as she enters the gate, a security guard asked her for her passport. To which, the singer looks at her assistant who was walking behind her and continues to walk ahead. After watching the video online, netizens are now claiming that the American singer ignored the security personnel and that she cannot refuse to adhere to such protocols.
Check Out the Video of Katy Perry at Mumbai Airport:
Several Instagram users commented on the post saying that she was rude to the security personnel. A user wrote, "Yes she is an international superstar but that gives her no right to disobey Indian laws and security protocols."Another user commented saying, "Just imagine the same ignorant behaviour if done by our celebs in their country! Kya hotaa!!!"These 10 Pictures of Katy Perry In Flashy And Snazzy Outfits Prove That Her Fashion Game Will Be On Point At The OnePlus Music Festival!
Check Out the Comments on Katy Perry's Airport Video: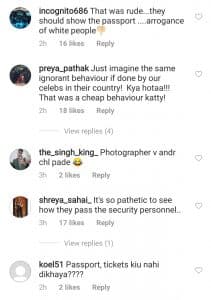 Katy Perry gave her first-ever performance in Mumbai at the music festival and performed on some of her greatest hits including her latest single "Harleys in Hawaii" which she performed live for the first time. Ahead of her concert, she also partied with Bollywood celebs such as Alia Bhatt, Aishwarya Rai Bachchan and more at a bash hosted by Karan Johar.