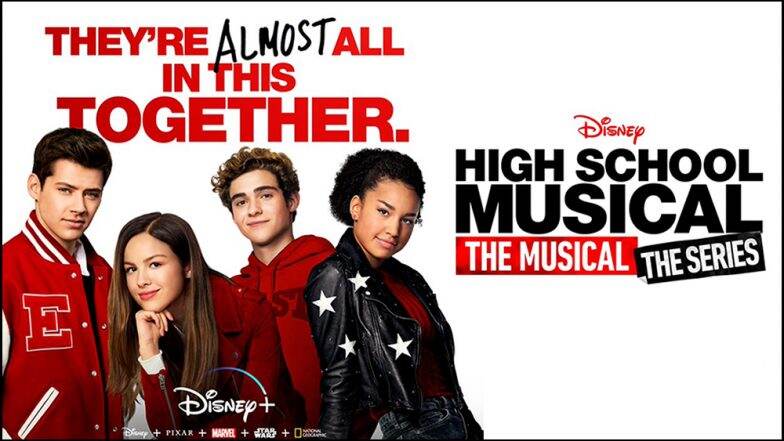 Disney Plus recently took to Twitter to share the first look posters of their upcoming series including the Star Wars spin-off series, The Mandalorian. The other interesting first look poster that Disney released was of their upcoming series on the popular High School Musical franchise. Yes, the same one that gave us Zac Efron and Vanessa Hudgens. With a newer cast, the High School Musical series was introduced as High School Musical: The Musical Series. While we bet you found it hard just reading 'Musical' twice in the same line, Twitterati is now wondering how no one at Disney noticed how ill-fitting this name was.  Disney Plus: Web-Series on Loki, WandaVision, Winter Solider AND Star Wars Officially Announced – Read Deets.
The Disney series is filmed like a documentary series that follows a group of teenagers at East High who are working on a production of High School Musical for their winter project. It stars Joshua Bassett, Matt Cornett, Kate Reinders, and Frankie A. Rodriguez in lead roles. Given the kind of popularity Efron and Hudgens won after starring in the Disney films, we bet these new actors are hoping for a similar miracle.
Check out the first poster of the series here:
Not a reboot. Not a sequel. The start of something new. High School Musical: The Musical: The Series. Streaming November 12 only on #DisneyPlus. pic.twitter.com/YbIjYr03uh

— Disney+ (@disneyplus) August 23, 2019
While many fans have expressed their disappointment over the series already saying it's a reboot they didn't need, there are several others who can't get over how uninspiringly the title of the series has been put up. Check out the Twitter reactions for this title.
Is this the best Disney could do?
I still think this is the stupidest name for a TV show

High School Musical: The Series would have been fine

— Kara (@SugarSchweetz) August 23, 2019
Can't get over the obvious error:
that title though pic.twitter.com/I72brDqCIR

— Chili (@KeybladeChili) August 23, 2019
How can you not laugh?
That title pic.twitter.com/WVGBEmbsiz

— Tay (@DoniLad10) August 23, 2019
Whether the High School Musical series will become as successful as the films, we'll have to wait and watch but according to users, with that title, it seems difficult. The series is all set to premiere on November 14, on the launch day of Disney+.