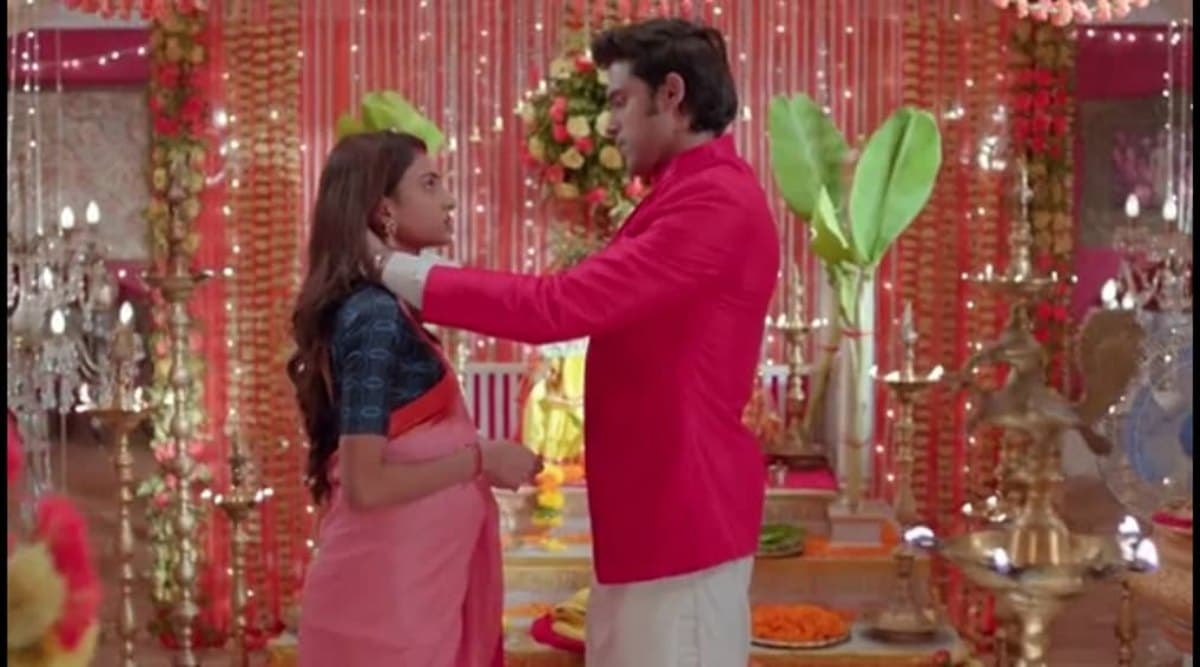 In yesterday's episode of Kasautii Zindagii Kay 2, Komolika bribes the electrician and makes him her accomplice in the evil plan and Komolika is trapped in her own plan. In tonight's episode, we see Anurag (Parth Samthaan) shout in anger and calls the electrician. Anupam goes to the library and brings him to Anurag. Anurag scolds the electrician for his reckless behaviour and says he will kill him if something happens to Prerna (Erica Fernandes) or her child. Komolika (Aamna Sharif) gets angry. The electrician apologies, just then a bundle of notes fall down from his pocket. Komolika gets scared and worries if he will reveal her name. Anurag questions the electrician and asks him if someone sent him to do this? Komolika acts like coughing and when Anurag comes towards her she signs the electrician to escape. The electrician runs away. Anupam tries to follow him. Kasautii Zindagii Kay 2 December 2, 2019 Written Update Full Episode: Prerna Narrowly Escapes A Mishap, While Sonalika's Plan Backfires Badly
Anurag takes Komolika to her room while she smirks seeing Prerna. Mohini gets worried about seeing Sonalika's condition. Seeing Anupam they ask him whether he caught the electrician. Anupam says he didn't get him but downstairs Prerna is sitting holding her stomach as she's in pain. Anurag goes to Prerna and asks her how she feels. Prerna says it's paining. Anurag tells Anupam that he will take Prerna to hospital. Komolika behaves violently and scolds Anupam for breaking her moments with Anurag and says why couldn't he take Prerna to hospital. Mohini supports her and asks Nivedita to make her husband understand. Anupam says sorry to Nivedita, who then tells him that any girl will behave like Sonalika in this kind of situation.
At the hospital, the Doctors greet Anurag and Prerna. Prerna gets scared thinking what if the doctor reveals the truth to Anurag. The doctor says she knows how one feels when they are going to become a father. Anurag gets confused. Anurag goes to fill the form. Prerna explains their situation to the doctor. Nivedita supports Sonalika and says Prerna is spoiling Sonalika's happiness. Anupam says Prerna is carrying Anurag's child. Nivedita says who knows it. Anupam gets shocked. Kasautii Zindagii Kay 2 November 27, 2019 Written Update Full Episode: Prerna Reveals Sonalika's Truth to Mohini and Anurag
Doctor shows Sonography of baby to Anurag and Prerna. Anurag and Prerna experience baby kick and feel overjoyed. Doctor asks how they know it's a girl. Prerna says she knows it, Anurag smiles seeing her. Sonalika says she needs some rest and wants to be alone. Mohini and Nivedita leave. Sonalika thinks these people can promise big things but won't do anything.
Meanwhile, the Nurses discuss Prerna's husband being bad and he left her in this state and staying with another girl. Anurag overhears their conversation and gets shocked. Anurag thinks why Prerna lied to him and plans to know about her husband.
In the precap, Anurag asks Prerna about her husband's location. Prerna says he stays out of India. Anurag thinks why she is lying to him also. Anurag tells to Sonalika he feels somewhat connected to Prerna.