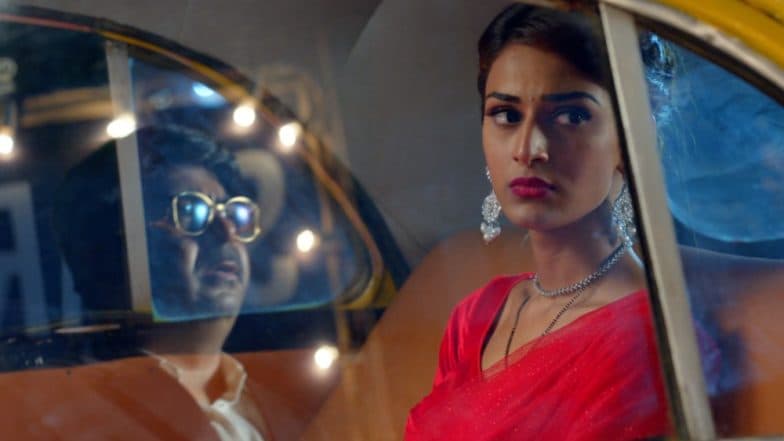 In yesterday's episode of Kasautii Zindagii Kay 2 we saw Anurag struggling to justify himself when Prerna accuses him of attempting to murder Mr Bajaj. Tonight's episode starts with Anurag (Parth Samthaan) approaching Anupam and apologising for his behaviour, Anupam says he has changed a lot and that whenever he sees Prerna (Erica Fernandes), he forgets everything. Anurag hugs Anupam and says he knows how much he loves him. Anurag sees Prerna standing at the door and says he wants Prerna to understands his love one day. Kasautii Zindagii Kay 2: Aamna Sharif's First Glimpse As Komolika Is Here and It Will Give You Goosebumps (Watch Video).
Meanwhile, Prerna thinks she should leave Anurag and the house soon because she does not want Bajaj (Karan Singh Grover) to harm Anurag. On the other side, Kuki is waiting for Prerna as she wants her to put her to sleep. Just then Bajaj enters the room and is happy as his family is complete now. He vows that he will not allow anyone to come between them.
On the other side, Anurag reminisces about Prerna and her words. He wonders why Prerna told him that Bajaj will never harm him. He keeps his phone on the side and forgets it. Just then, Bajaj arrives and tells Anurag that he wants to know why he did not put the goons behind bars. He reveals that the goons were his men. Anurag is shocked to hear it and grabs him by his collar. He asks Bajaj how dared to do such a thing. Bajaj says as he is in love with Prerna, his wife.
When they both argue with each other, Prerna arrives. Bajaj sees her and tells Anurag to go and tell everything to Prerna. He says she will not trust Anurag and that their relationship is based on trust. Later, when Anurag sees Prerna he tries to defend himself and tell her the truth about what Bajaj did but Prerna tells him to stop lying. Bajaj acts innocent and asks Anurag whether he has any proof. Anurag vows to get proof and then come back to her and leaves.
Later, Prerna tells Bajaj that she just has love only for Anurag and confesses that he cared for her even whent they were not together. On the other side, Anurag prays Goddess Durga to help him to reach the truth. Later Anurag realises he left his phone on the terrace, he goes to take it. Meanwhile, at the terrace Bajaj reveals why Anurag is still alive. Prerna says if he thinks that Anurag will attack him again, she is ready to leave this house.
Prerna tells Bajaj that it is for Anurag's life that she left him and married Bajaj, Bajaj says he remembers the deal and that he is not a killer. Prerna says Anurag is right in his place as his intentions are not wrong as he loves her so much. Prerna says she sacrificed herself just for Anurag. She loves him still and if anything happens to him, she will die.  She asks Bajaj for a promise that he will not harm him. Bajaj obliges.
Just then, Anurag arrives and takes his phone. Shivani calls him and tells him to meet her downstairs. Later, Shivani asks him to check his phone as in the puja photos he can see how Prerna was staring at her. When Anurag opens his phone, he realises the recording mode is on and all the conversation of Prerna and Bajaj get recorded. Shivani and Anurag are shocked to know the truth behind Prerna's marriage to Bajaj.
In the precap, Anurag tells Bajaj that he knows all the truth about why Prerna got married to him. Later, Anurag tells Prerna that no one can come between them.