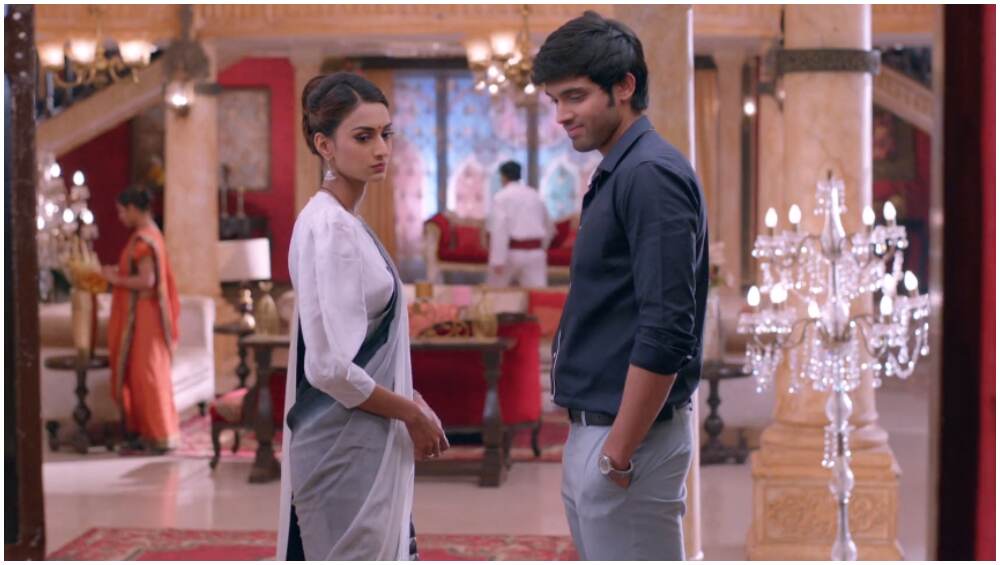 In yesterday's episode of Kasautii Zindagii Kay 2, we saw Aman and Roshni arriving at the Basu Mansion. Elsewhere, Komolika is in a state of denial regarding her facial transformation while Anurag challenges Mr Bajaj. Tonight's episode starts with some goons teasing Tanvi who is buying flowers from the shop. They chase her and try to take her with them but Anurag (Parth Samthaan) comes there and tells the goon to leave the girl or else he will not spare them. Anurag fights with them and then asks Tanvi that they should go to the police station and lodge a complaint against them. Tanvi gets emotional and cries and later reveals to him that Bajaj (Karan Singh Grover) was the one who planned the attack on himself and accused him. Kasautii Zindagii Kay 2: We Love Hina Khan But Aamna Sharif As Komolika Impresses Us Too! 
Later, Anurag and Anupam go to meet the goon who had taken Anjurag's name and beat him up, demanding the truth. He reveals everything to Anurag, who records it in his mobile so that he will have proof against Bajaj. On the other hand at the hospital, Komolika is all dressed up in her usual avatar and all set to leave. Meanwhile, Prerna (Erica Fernandes) remembers Anurag when she sees the anklet he gifted her and gets emotional. Kuki comes there and tells her to put it on and hugs her tightly. Bajaj comes in and asks Kuki if she loves him or Prerna more, Kuki says she loves Prerna more and smiles. Later, Prerna says that Dadi has called her as she did not visit her in a long time and tells him that she will take Kuki with her.
Meanwhile, in Basu household, Anurag comes to meet Bajaj and tells him that today he is going to be defeated and calls out Prerna. Bajaj tells him that Prerna is not at home, Anurag says he wants to tell him something but only in front of Prerna. Just then Mohini comes and takes Anurag with her. Later she asks him what is he doing and she feels something wrong is going to happen, but Anurag assures her that now everything will be fine. Kasautii Zindagii Kay 2 October 14, 2019 Written Update Full Episode: Anurag Challenges Mr Bajaj, Who Will Prerna Side With?
On the other hand, Dadi pampers Prerna and she feels relaxed. Dad tells her that Anurag should have been her partner then why did she marry Bajaj. Prerna says she married Bajaj as she wanted to save Anurag. Anurag calls her and asks her to come home soon as he wants to tell her something important.  Prerna says she was feeling restless so she had come home to meet Dadi, Anurag tells her to come home whenever she is relaxed and then they will talk. Later Anurag tells Anupam that tomorrow he will show the proof to Prerna which will prove that  Bajaj is guilty, Bajaj overhears their conversation and gets enraged.
 In the next episode, Komolika gets ready to come back to Anurag's life.