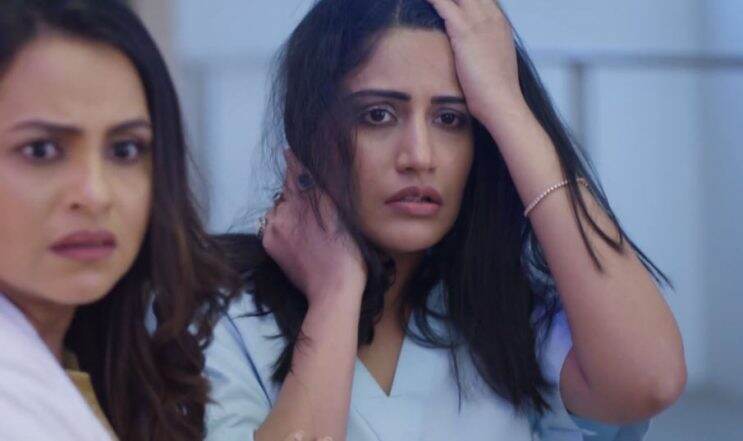 In the last episode of Sanjivani 2, we saw Vardhan rejoices seeing Sid threaten  Ishani. Later, she is shattered when a secret about her past is made public and Sid is accused of defaming her. Tonight's episode starts with Ishani (Surbhi Chandna) remembering all that happened and gets upset. Meanwhile, Sid (Namit Khanna) remembers Ishani and thinks of calling her. Just then he gets Shashank's (Mohnish Behl) message that he has been discharged and tells him to come and meet him and he leaves. On the other hand, Juhi (Gurdeep Kohli) give the discharge papers to Shashank to sign but tells him to go home and rest and not work and leaves. Shashank sees Sid upset and asks what is the matter. Sid tells Shashank that he does not know how to solve this problem. Shashank asks does he really care what Ishani thinks for him. Sid says Ishaani thinks he is a liar, insensitive and fraud and even everyone thinks so. Shashank says he knows he didn't put the posters, then why is he not proving it,  Someone did and tells him to find out who did this? Sanjivani 2 September 6, 2019 Written Update Full Episode: Vardhan Creates A Misunderstanding Between Sid And Ishani, The Latter's Dark Part Is Revealed To All!
Meanwhile, the hospital staff is heard gossipping. Juhi says Sid is innocent until his crime is proved. They see a man named Rajat getting a lady to the hospital. Juhi says it's a gynaecologist case and tells the nurse to call Anjali. Juhi attends to them. Rajat asks them to just arrange a room and Dayi and that they want a normal delivery. The lady says we don't want any surgery. Juhi introduces herself and says we will not force her for the surgery until there are complications.
On the other hand, Sid waits for Ishani to tell her the truth. Ishani comes to the hospital and thinks of her dream and childhood. Sid sees her and runs to her and tells her that he did not put the posters and that he was with Vardhan at that time, she can ask Rahil. She goes without saying anything. Meanwhile, the lady Meenakshi refuses to get any test done. Rajat says he will take her home. Meenakshi faints. Anjali checks her and says baby's heartbeat isn't there and asks him to sign on a form soon. Sanjivani 2 Actress Surbhi Chandna Looks Surreal in Her Latest Instagram Post (View Pic)
Later, Ishani comes to Juhi and says she knows there were many problems because of her, and tells her that she does not want to work under Dr Sid, and tells to shift her to any other team. Juhi says fine, go and assist Anjali right now. Ishani thanks her and goes. Juhi says Sid, she knows they both are a good team, right now they both can't work together. Anjali and Ishani operate the laby and get shocked. Ishani says there isn't a baby inside the stomach. Anjali says she just read about 'Phantom pregnancy', a scenario where a woman expects but there is no pregnancy. Anjali and Ishani go out to speak to Rajat. He asks how is Meenakshi, where is his baby, is it a boy or girl?
Anjali tells him Meenakshi was never pregnant, there was no baby in her womb. Rajat says Meenakshi was right, she didn't wish to come to this hospital. He angrily slaps Anjali. Juhi asks him to stop creating a scene and that he can't raise a hand on a doctor. The man sees Ishani and recalls posters. He says she is a murderer's daughter and she killed his baby. He slaps Ishani too. Rajat says he will not leave them all. Anjali says a case will be filed on him for raising hand on a doctor. Ishani gets sad and goes to do the aid. Asha comes and does the aid. Asha says no one has a right to tell her anything. Ishani says her criminal parents gave this right to everyone. On the other hand, Rahil says there is no clue. Sid says yes, even printer history is deleted. Rahil says this man is an expert in hiding his identity and asks if an outsider was involved.  Sid wonders who can do this.
In the next episode, Rishabh tells Sid that he exposed Ishani's past and got her insulted. Sid sees Ishani and says he didn't do this. Ishani scolds him.