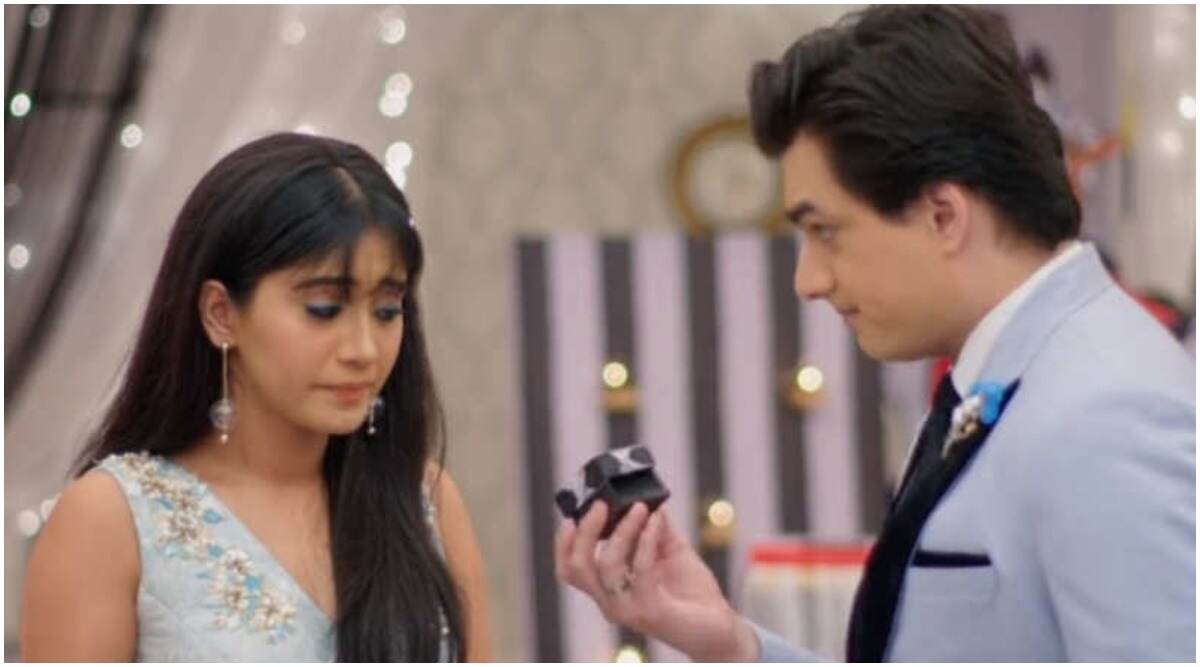 In the last episode of Yeh Rishta Kya Kehlata Hai, Akshat blackmails Vedika threatening to reveal her secrets to the Goenkas. Kairav plans a surprise party for Vansh's birthday bash. In tonight's episode we see, Kartik (Mohsin Khan) and Naira (Shivangi Joshi) tease each other about their costumes. Kartik feels romantic when Naira comes too close to him, but Naira stops him (Yaha waha hai hum track plays in the background). Vansh comes home with Gayu and Samar. They are surprised to see the whole house decorated for Halloween party. Vansh is happy when he sees everyone dressed for his birthday bash. Vansh hugs Kairav and thanks all for the wonderful surprise. Kairav tells Vansh to get ready and come to the party. Yeh Rishta Kya Kehlata Hai November 22, 2019 Written Update Full Episode: Akshat Reveals His Plans of Kidnapping Kairav to Vedika
Naira notices that Vedika Is tensed every time Akshat shows up. Naira sees some unknown faces and wonders who are these strangers. She realizes that they have not invited any outsiders. Manish and all enjoy the party. Akshat tells his friend that when everyone is busy at the party they should find the right moment and kidnap Kairav.
Kartik calls everyone to the dance floor. Vansh cuts his birthday cake. When Kairav goes to drink water Akshat tells one of his friends to be friendly with Kairav and kidnap him. Just then Kartik comes and takes Kairav to the dance floor. All dance and enjoy (Bhoot raja bahar aaja track plays in the background). Akshat and his friends also mingle with them and wait for the right opportunity. Mere Angne Mein Fame Neeraj Malviya Roped In for Yeh Rishta Kya Kehlata Hai
Naira gets tensed when she does not find Kairav around. On the other hand, Kairav goes to the washroom. Akshat follows Kairav and tries to go inside the washroom. Vedika comes and stops him from going in and tells she will give as much money as he wants, but he should not touch Kairav. Naira searches for Kairav and comes upstairs. Akshat warns Vedika not to come between him and his plan. Akshat tells that he will ruin her if she tries to stop him. As he tries to come closer to Vedika, she sprays pepper spray on him.
Naira comes and sees Kairav locked in the room and thinks who might have done this. Vedika tells Akshat to leave her alone and go from her home. Akshat tells him he will destroy her. Vedika tells him that she will not allow him to harm anyone from her family and orders Akshat to leave as soon as the party is over. While Naira is enjoying with Kairav and all the kids, Kartik admires her and wants to be close to her. In the precap, Kartik feels attracted to Naira and thinks how will he open up about his feelings for her?