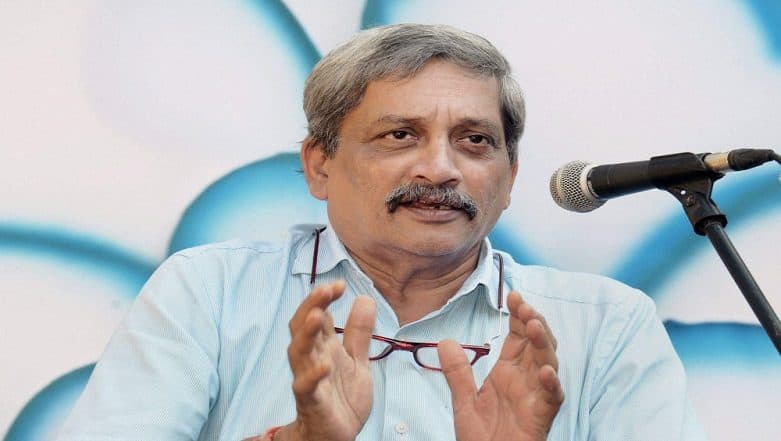 Mumbai, May 10: The Goa Chief Minister (CM) Manohar Parrikar, 62, who was said to be suffering from pancreatic cancer is undergoing treatment in US hospital. Civil Aviation Minister Suresh Prabhu confirmed about his treatment in America and wished him a speedy recovery in a tweet earlier today. Parrikar was discharged on March 1 from Lilavati hospital and was recovering at home, until he flew to the US for further treatment.
Minister Prabhu is his tweet added that he had a telephonic conversion and Parikar was responding well to medical treatments in the US. Also, soon he will take up all his responsibilities once he returns.
Spoke to @manoharparrikar, who is responding well to medical treatment in the US.Wishing him well for speedy recovery so he returns to India soon to resume his responsibilities of developing #Goa as leading state.

— Suresh Prabhu (@sureshpprabhu) May 10, 2018
Parrikar's unprecedented absence has led to a spree of rumours being circulated on social media related to his health. Hoax messages going viral on WhatsApp, signed under Parrikar's name, claimed the Goa CM was contemplating about his death as the chances of his survival are bleak. The Goa Chief Minister's Officer had issued a stern warning to miscreants, saying penal action would be taken against those found spreading such fake messages.
Parrikar had left for the US in the first week of March from Mumbai. He is reportedly suffering from early stage of pancreatic cancer according to sources. Lilavati hospital confirmed about his ill health, in earlier media reports statements, while he was undergoing treatment. He took treatment in both Lilavati and Goa Medical Care hospital. Also, it is believed that he went for one round of chemotherapy when he was admitted to the Lilavati hospital.
To recall, Parrikar complained of stomach pain, which was first attributed to food poisoning. He was then admitted to Goa's Medical care hospital and later flown to Mumbai's Lilavati hospital.
Meanwhile, the opposition party Congress has raised concerns since no official clarification on Goa CM's health has been made. The party has stated that he should come clean as he is a public figure, elected by the people of Goa. The state Congress president Shantaram Naik said, "We have sympathies for Parrikar, but the Chief Minister should be transparent about his illness. He should be true to the people of Goa who have elected him," quoted by the New Indian Express.