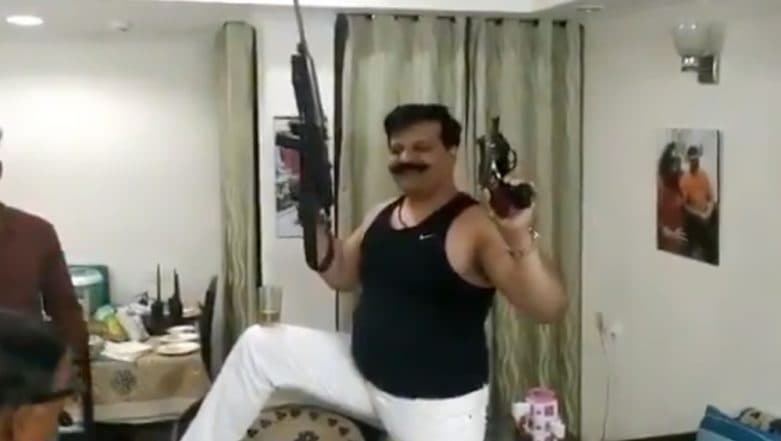 Dehradun, July 10: Suspended Bharatiya Janata Party (BJP) MLA Pranav Singh Champion, who shot back to limelight after a video of him dancing and brandishing guns went viral, has issued a clarification. Champion said that drinking alcohol and keeping a licensed gun is not a crime. He added that the weapons are licensed and not loaded. BJP MLA Pranav Singh Champion Brandishes Guns as he Dances to Bollywood Songs to Celebrate Homecoming After Leg Operation.
Calling it as conspiracy, Pranav Champion said, "The weapons are licensed weapons and not loaded. I'm not pointing towards anyone or threatening anyone. What's the crime? Is drinking alcohol and keeping licensed gun a crime?"
Watch Video:
BJP MLA Pranav Champion who was recently suspended from the party for threatening a journalist, seen in a viral video brandishing guns. Police says, "will look into the matter and also verify if the weapons are licensed or not." (Note: Abusive language) pic.twitter.com/AbsApoYR2g

— ANI (@ANI) July 10, 2019
Champion who is currently under suspension from the BJP on the grounds of indiscipline was reportedly celebrating his homecoming after leg surgery. BJP MLA Balram Thawani Caught on Camera Kicking Woman, Says He Acted in Self-Defence After Video Goes Viral.
This is not the first that Champion has been in news for the wrong thing, earlier, he had threatened to a kill a journalist. A video of him publicly indulging in a war of words with BJP Jhabrera Haridwar MLA Deshraj Karnwal also went viral.