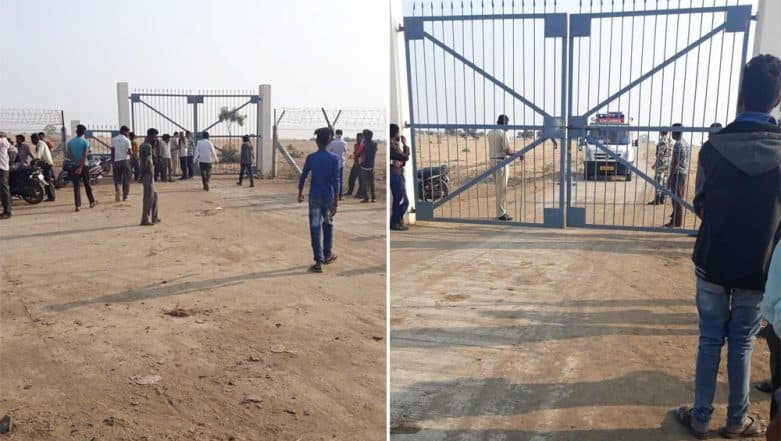 Mumbai, November 20: A blast was reported in the early hours of Tuesday at the Indian Army's ammunition depot in Wardha. At least six were killed and 18 left injured in the explosion. The victims were rushed to the nearest civic hospital, where they are undergoing treatment.
According to an official, the blast took place during the process of destroying explosives. "While carrying out demolition of old explosives by the staff of Ordnance factory Khamaria, Jabalpur at the demolition land in Pulgaon, there was an accident. In the incident 3 labourers and 1 staff of ordnance lost their lives," said Defence PRO B B Pande. Indian Army Has Upgraded to Fiber Bunkers to Sustain Extreme Temperatures.
The ammunition depot where the explosion was reported is based in Pulgaon, located in Maharashtra's Wardha district. According to a senior official, a probe will be conducted to ascertain the reason behind the fatal incident. Action is likely to be taken against staff members found responsible.
Two killed, several injured in an explosion in Pulgaon Army depot in Wardha. #Maharashtra pic.twitter.com/ZJywxHe3h1

— ANI (@ANI) November 20, 2018
#BreakingNews | Maharashtra: Blast in Army depo in Wardha; 3 killed. According to info, blast took place while destroying explosives

— India TV (@indiatvnews) November 20, 2018
In 2016, a major fire was reported at the Pulgaon Army depot, leading to the death of 16 people. The blaze had then engulfed over 19,325 defective anti-tank mines, which went up in flames due to leakage of explosives from some of the mines.
The Ministry of Defence had recently lambasted the Ordnance Factory Board over its failure to crackdown on the negligent officers responsible for the fatal mishap.