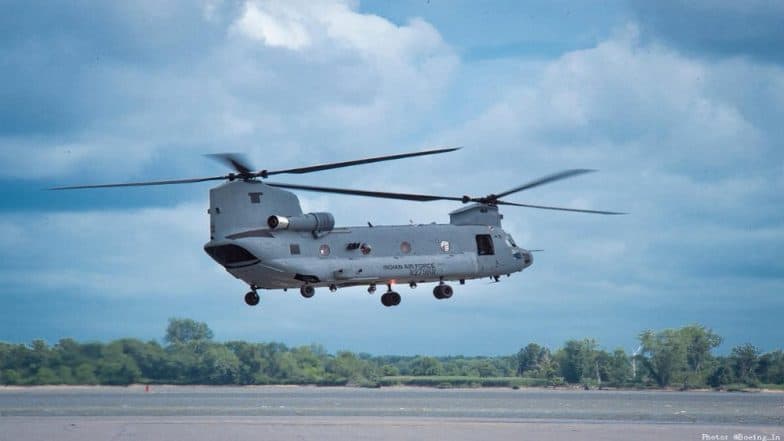 Ahmedabad, February 10: The first batch of Boeing's four CH-47F Chinook helicopters for the Indian Air Force (IAF) arrived at the Mundra airport in Gujarat on Sunday. India has procured 15 of these helicopters from the United States. Earlier this month, the Boeing handed over the first CH-47F Chinook Helicopter to India at a transfer ceremony held in Boeing Defense facility in Philadelphia. Indian ambassador to the United States of America (USA) Harsh Shringla and DGAO, Air Marshal A Dev, from Air HQ (Vayu Bhawan) were present at the ceremony.
Later, Chinook helicopters will be flown to their permanent base in Chandigarh, after acceptance trials. Two hangars and a maintenance bay are to be set up in Chandigarh along with associated technical and logistics facilities.
Video of Chinook helicopter arriving at Mundra Port:
Indian Air Force's First "Chinook" Arrives. See the first images of the Indian Air Force's first 'CH-47F Chinook' heavylift helicopter arriving at the Mundra port in Gujarat this morning. In 2015, India has purchased total 15 Chinook Helicopters from USA. #Chinook pic.twitter.com/lNa12fJXjL

— Avinash Srivastava ® (@go4avinash) February 10, 2019
India signed a $ 3 billion deal to buy 22 Apache and 15 Chinook helicopters in September 2015 with Boeing and the government of the United States. The Indian government signed a direct contract with the Boeing to procure Chinook helicopters, while the deal to buy Apache helicopters is a mixed one. A part of the deal was signed with the US aviation company, and the other half is signed with the US government under the foreign military sales route. According to reports, Apaches will be stationed at Hindon airbase in Ghaziabad. The IAF crew were also trained on the Apache AH-64 E and Chinook CH 47F (I) helicopters.
Chinooks have a payload capacity of about 10 tonnes. The IAF had four Mi-26s to airlift weapons and men, but now left with only one serviceable chopper. The Boeing CH-47 Chinook is an American twin-engine, tandem rotor, heavy-lift helicopter developed by American rotorcraft company Vertol and manufactured by Boeing Rotorcraft Systems, earlier known as Boeing Vertol.