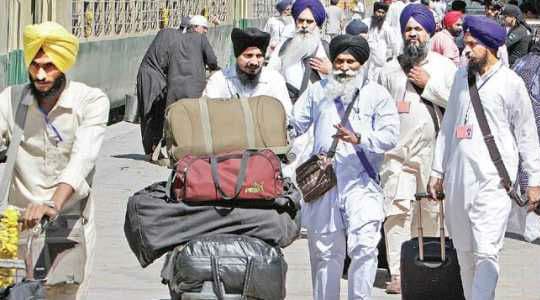 New Delhi, November 5: Four days before the opening of Kartarpur corridor, Pakistan is yet to confirm whether it has approved the list of prominent Sikh leaders and dignitaries who would be arriving from India for the inaugural jatha. The special religious ceremony will be held on November 9, when the corridor linking India's Dera Baba Nanak to the Kartarpur Sahib shrine would be opened up for the first time in the last 73 years.
Not only has Islamabad not responded to the list of dignitaries shared by New Delhi, it has not held any joint discussion related to the inaugural jatha -- which is a huge event for the pilgrims. All the arrangements being made by the Pakistan government have been "unilaterally" decided, said a top Indian government source while speaking to news agency ANI. Pakistan: 1,100 Indian Sikhs Reach Gurdwara Punja Sahib Ahead of Guru Nanak Dev Birth Anniversary.
"Pakistan has unilaterally decided on the programme and timing of the inaugural 'Jatha' without taking into account our inputs in this matter.Critical information such as medical facilities available and security arrangements for the pilgrims haven't been shared with India," the source was reported as saying.
Update by ANI:
Govt Sources: A list of prominent Sikh leaders and other dignitaries who are part of the inaugural 'jatha' to undertake the pilgrimage on 9th November has been sent to the Pakistani side. However,India is yet to receive a confirmation from Pakistan on the list. #KartarpurCorridor pic.twitter.com/hZT1HfsICO

— ANI (@ANI) November 5, 2019
Another confusion related to the Kartarpur corridor opening emerged after Pakistan Prime Minister Imran Khan tweeted that the Sikh pilgrims would need only their valid ID cards, and not their passports, for entering into the Pakistani territory.
The tweet has created confusion, said the government sources, as the Memorandum of Understand (MoU) inked between India and Pakistan on the Kartarpur corridor made it mandatory for the pilgrims to carry their passports. There has been no offer from Pakistan yet to amend the MoU in light of Imran Khan's tweet.