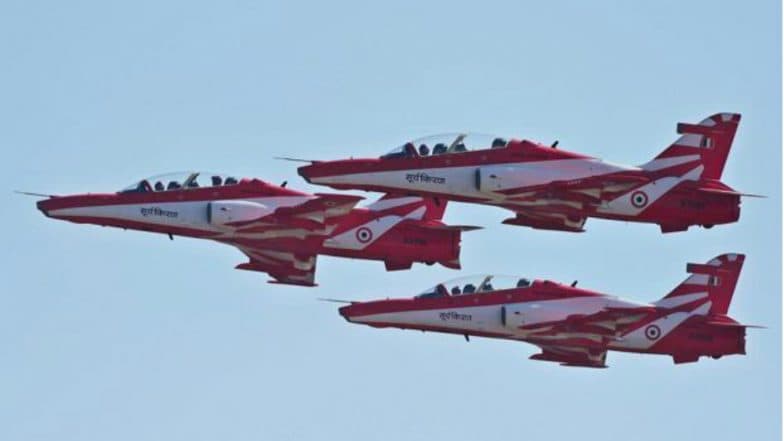 Bengaluru, February 21: Rich tributes were paid to Wing Commander Sahil Gandhi, who lost his life in an aircraft crash in Bengaluru on Tuesday. As a mark of respect, the Indian Air Force (IAF) executed the 'missing man' formation where the three-aircraft formation of Tejas, Jaguar and Su-30 flew past with an empty space for the pilot signifying their comrade. The missing man formation is an aerial salute performed as part of a flypast of aircraft at a funeral or memorial event, typically in memory of a fallen pilot.
As a mark of respect to the pilot, the Rafale aircraft of the French Dassault Aviation also flew at a low speed. The tradition of "missing man" formation was started to pay tribute to Charles "speed" Holman, an American stunt pilot. Holman was killed in an air crash in the 1930s. 2 Surya Kiran Hawks Crash in Yelahanka Ahead of Aero India 2019, One Pilot Killed.
Watch Video:
#MissingMan formation was flown, today, led by Su-30MKI at Yelahanka as a tribute to Wg Cdr Sahil Gandhi, who was martyred during a rehearsal sortie on 19 Feb 19. Followed by a slow speed pass by #Rafale, as a salute to #Braveheart.

'You will be missed, blue skies to you always' pic.twitter.com/5ofzzb1Ofx

— Indian Air Force (@IAF_MCC) February 20, 2019
On Tuesday, Gandhi lost his life after two aircraft of the Indian Air Force's aerobatic team Surya Kiran crashed and burst into flames near the Yelahanka air base during rehearsals. The incident took place just a day ahead of the five-day air show. Two more pilots were also injured and were undergoing treatment. Aero India 2019: IAF's Surya Kiran Fleet Pulls Out After Death of Pilot in Mid-Air Collision During Rehearsal. 
Aero India's official website said a total of 61  aircraft have been registered for flying and static display in 2019 while 403 exhibitors would be part of the biennial event. The 12th edition of Aero India commenced on Wednesday at Bengaluru's Yelahanka Air Force base.
On the first day of the five-day show, a two-minute silence was observed to pay homage to Wing Commander Sahil Gandhi. Following the crash, the Surya Kiran team decided to not participate in the five-day air show Aero India 2019 in memory of Wing Commander. The fleet of Surya Kiran Aerobatics Team was seen standing with their canopies covered on the runway behind the inaugural venue of Aero India 2019.