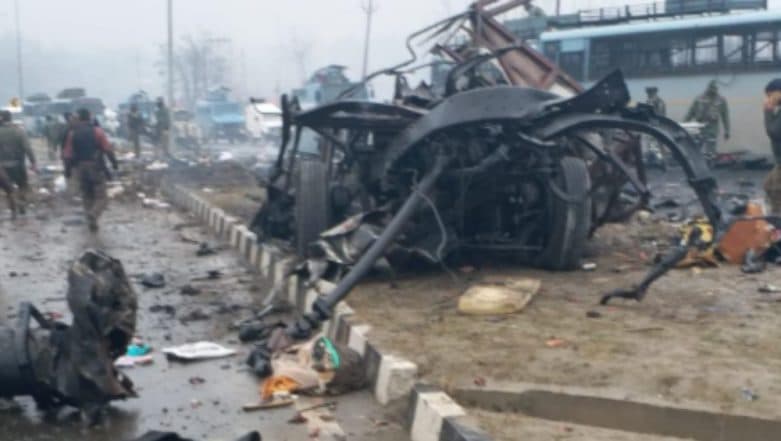 Srinagar, February 16: According to initial investigation in a suicide attack on a CRPF bus that killed 40 security personnel in Jammu and Kashmir's Pulwama, Jaish-e-Mohammed terrorist, Adil Ahmad Dar, used high-grade RDX of about 80 kilograms in one of the deadliest terror strikes on security forces in the Valley in three decades. So great was the impact of the bast that a body was tossed 80 metres away.
Dar detonated high-grade RDX explosive, weighing about 80 kilograms, next to the ill-fated bus–HR 49 F 0637–from the left side. Initially, it was believed that an improvised explosive device (IED) was used. It appears he was not driving an SUV but a sedan, an NDTV report said. A post-blast investigation conducted by security agencies also revealed that Dar didn't ram his vehicle into the bus carrying CRPF jawans but detonated the explosives right next to it, the report added. All Party Meeting in Parliament 'Strongly Condemns' Terror Act in Pulwama, Pays Tribute to 40 Martyred CRPF Jawans.
The initial probe also revealed that the explosives had a 'shaped charge' designed for focused impact and to penetrate armour. The bus was reduced to blackened bare frames after the blast and human remains scattered across a 100 metre stretch of the highway. The fatal damage can be wreaked by a better grade of explosive like RDX, officials told news agency PTI. The suicide attack took place at the 272nd milestone on National Highway near Latoomode in Pulwama at about 3:33 pm. Pulwama Terror Attack: Traders in Ahmedabad Call One Day Bandh as Mark of Protest.
The attacked bus was the fifth in the convoy of 78 vehicles which also included as many as 16 bullet-proof protection bunker vehicles that had joined the convoy an hour back from the last halt spot of Qazigund to guard troop movement. The terrorist drove the vehicle on the highway from a link road on the Kakapora-Lelhar side and was moving parallel to the bus belonging to the 76th battalion, and the investigators suspect the explosion was triggered, killing all 39 occupants.
Assistant Sub Inspector Mohan Lal, deployed on the highway as part of the road opening party (ROP), also got trapped in the blast and was the 40th trooper to be killed.