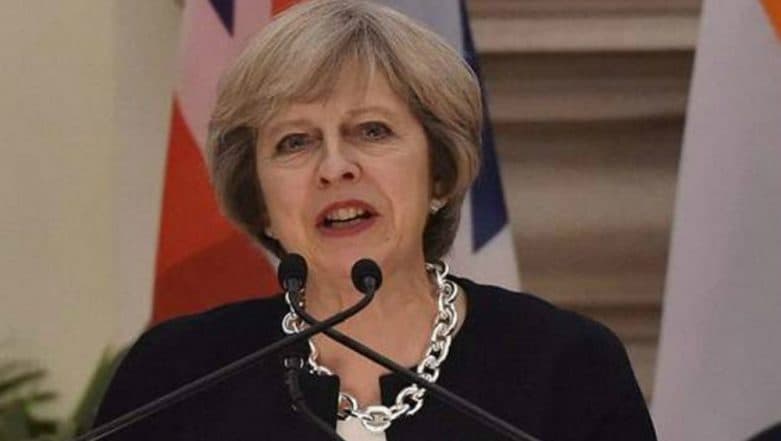 London, January 14: UK Prime Minister Theresa May warned the United Kingdom of a possible negation of the 2016 Brexit referendum results, claiming that if the House of Commons continue to defeat her proposed exit deal with the European Union (EU), Britain would be left with no other option but to accept a "No Brexit".
Speaking to reporters on Monday, May said that it is necessary for the Parliament to deliver on the results of referendum held two years ago -- when over 50 per cent of the survey participants had voted to leave the EU. Bank of England Warns "No-Deal Brexit" Would Push UK into 2008-Like Recession.
The Prime Minister claimed that to fulfill the referendum obligations without an exit deal with the EU would be disastrous for the country, as it would have to leave the European market without a framework for bilateral trades and agreements. In that case, the UK would be pushed into deep isolation, she claimed.
The British parliamentarians are set to vote on the government's deal on Tuesday (January 15). In 2016, over 50 per cent of the UK electorate voted to leave the EU, following which the British government had triggered Article 50 of the Lisbon Treaty, beginning the country's process of exiting the European bloc.
According to the withdrawal agreement, the UK is scheduled to leave the bloc on March 29, 2019, after which it will move into a 21-month long transitional period with the EU.
May, who dismissed the prospects of a second Brexit referendum, had halted the parliamentary vote on the deal on December 10 last year to put forth concerns voiced by British MPs with her European counterparts.
She made a whirlwind trip to the EU, visiting Germany, the Netherlands and Belgium to meet with European leaders for the same. However, the European Commission (EUCO) reiterated that the deal will not be renegotiated.
The British Prime Minister also survived a no-confidence motion initiated by her disgruntled lawmakers of the Conservative Party over her handling of the Brexit negotiations.
At present, the Prime Minister is facing a crunch in the Parliamentary votes on her government's deal to leave the EU, as some of the members of the British Parliament are in favour of a complete break with the EU, while the others are demanding either a second referendum or a light break with the EU, maintaining key economic and policy structures, reports said.
(With ANI Inputs)