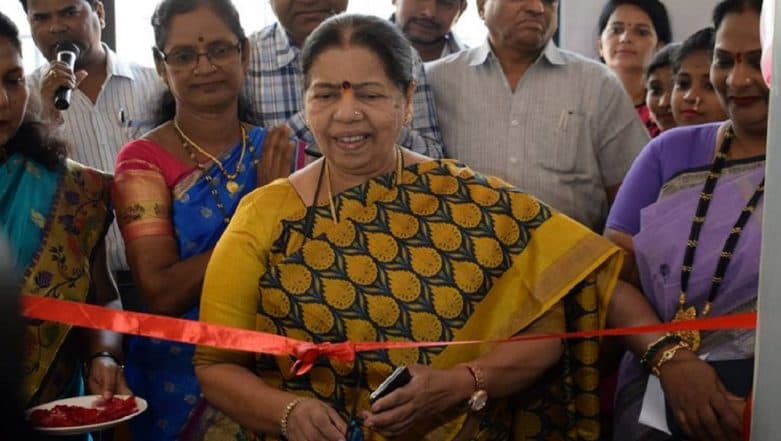 Thane, April 15: A case was registered against Belapur Bharatiya Janata Party (BJP) MLA Manda Mhatre for allegedly violating the model code of conduct (MCC). During a programme in Maharashtra's Navi Mumbai, Mhatre asked voters to vote twice for the National Democratic Alliance (NDA) candidate in the Lok Sabha Elections 2019. Model Code of Conduct Violation: Election Commission Asks Facebook to Drop Wing Commander Abhinandan's Posters Shared by BJP MLA.
Belapur is part of Thane Lok Sabha constituency which is going for polls in the fourth phase on April 29. Anand Prakash Paranjpe is contesting on the Nationalist Congress Party (NCP) ticket, while Shiv Sena has fielded Rajan Baburao Vichare. The Congress is contesting the parliamentary polls in alliance with the NCP, whereas the BJP is contesting in alliance with the Shiv Sena.
Last month, district election officer of Jaipur had issued notices to BJP General Secretary of Rajasthan Congress Sunil Sharma for putting up posters in different locations across the city depicting different operations done by Indian Armed forces. In the posters, they used images of defence personnel along with their own photos. Model Code of Conduct Violation: Jaipur EC Issues Notice to BJP Leaders For Using Images of Defence Personnel During Campaigning.
The MCC has come into force from March 10, after the Election Commission of India (ECI) announced the date for the Lok Sabha elections. The MCC is enforced by the Election Commission to oversee the state of law and order in the country till the polls conclude. The government would only play the caretaker role to ensure no administrative lapses until the elections are completed.