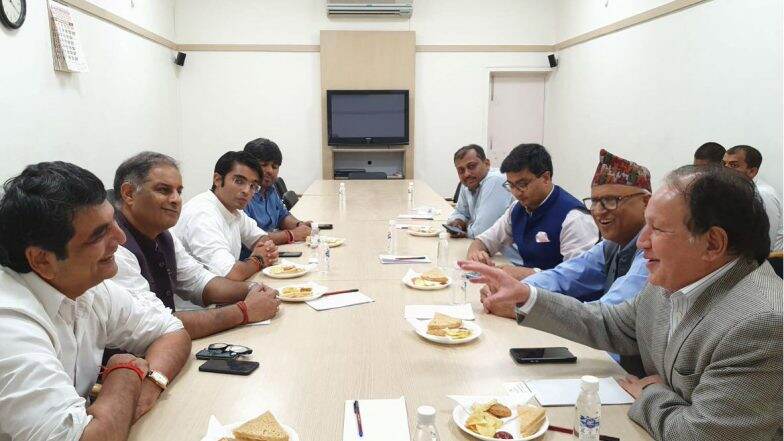 New Delhi September 9: An informal meeting took place between Congress and Nepali Congress on Monday in which Indo-Nepal relations and current political scenario in both the countries were discussed. Congress Leader Jyotiraditya Scindia to Meet Sonia Gandhi on September 10.
Representing the Indian National Congress (INC), former Union Minister and member Congress Working Committee RPN Singh, National Spokesperson of the party Jaiveer Shergill, National Spokesperson Rajeev Tyagi, Co-Convenor, Foreign Affairs Department, Sanjay Chandok and Indian Youth Congress (IYC) Spokesperson Amrish Ranjan Pandey attended the meeting. Sonia Gandhi Will Decide on Next Madhya Pradesh Congress Chief, Says Jyotiraditya Scindia.
Delhi: An informal meeting held between Congress leaders & Nepali Congress leaders at All India Congress Committee headquarters earlier today. pic.twitter.com/n872uP6gbt

— ANI (@ANI) September 9, 2019
While from the Nepali Congress, Dr Narayan Khadka, MP of Nepal, and Nepali Congress Central Committee member, Dilendra Badu, MP of Nepal, Nepali Congress Central Committee member and Uday Shamsher Rana Ex-Minister of State Finance, Nepali Congress Central Committee member attended the meeting.