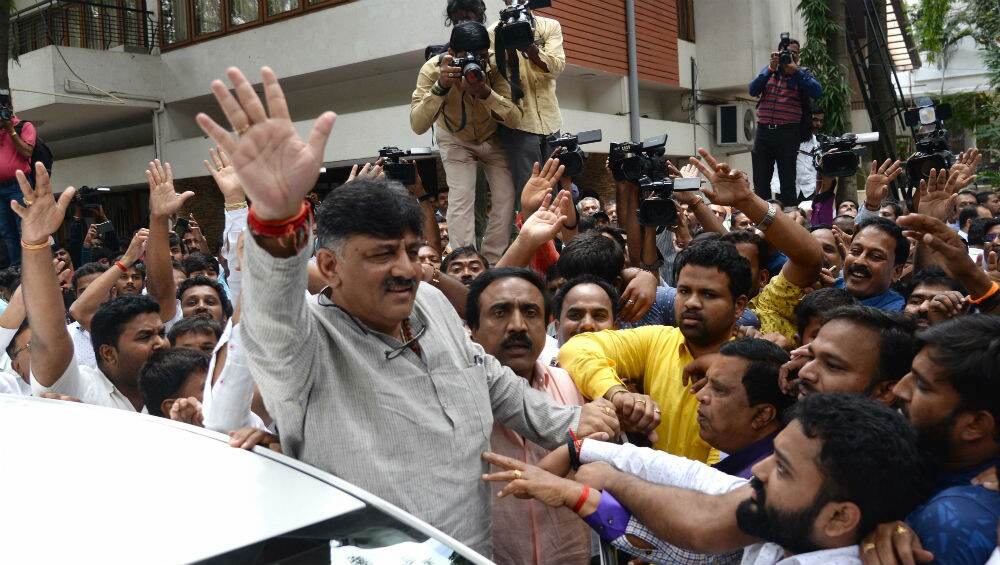 New Delhi, September 13: Senior Congress leader DK Shivakumar was on Friday presented before Delhi's Rose Avenue Court by the Enforcement Directorate (ED). The premier agency appealed the bench to extend his custody, alleging that Shivakumar did not cooperate in the probe so far. To extract genuine answers from him, it is essential to keep him in remand, the prosecution argued.
"DK Shivakumar was evasive and gave irrelevant answers during the interrogation," the counsel told the court, adding that his release from the ED custody would hinder the course of investigation at this crucial stage. The bench was yet to decide on the plea by the time this report was published.
Update by ANI:
Enforcement Directorate says DK Shivakumar was evasive and gave irrelevant answers during the interrogation. https://t.co/abW9wsurFj

— ANI (@ANI) September 13, 2019
Shivakumar, a minister in the erstwhile Congress-JD(S)-led Karnataka government, was arrested on September 3 on money laundering charges. The court had granted the ED an 11-day custody. If the bench refuses to extend the tenure of his remand, Shivakumar would be liable to be released.
Notably, the Congress veteran had come under scanner in August 2017, when a team of Income Tax department carried out searches at around 64 locations in Karnataka and Delhi.
In the raids, the investigators reportedly found that a section of Karnataka Bhavan employees in the national capital aided Shivakumar in the alleged illegal storage and transfer of money.
The raids were carried out shortly after Shivakumar emerged as the top Congress troubleshooter, after he managed to bring 44 Gujarat Congress MLAs to a resort owned by him near Bengaluru, and kept the entire flock together till the crucial Rajya Sabha polls in which the fate of party veteran Ahmed Patel was to be decided.
The ED, which has been probing the case since the end of 2017, has alleged that Shivakumar used several shell companies and firms to launder unaccounted wealth.
Shivakumar has blamed the ruling BJP's "vendetta politics" behind his arrest. "I congratulate my BJP friends for finally being successful in their mission of arresting me. The IT  and ED cases against me are politically motivated and I am a victim of BJP's politics of vengeance and vendetta," he had said on being taken into custody.