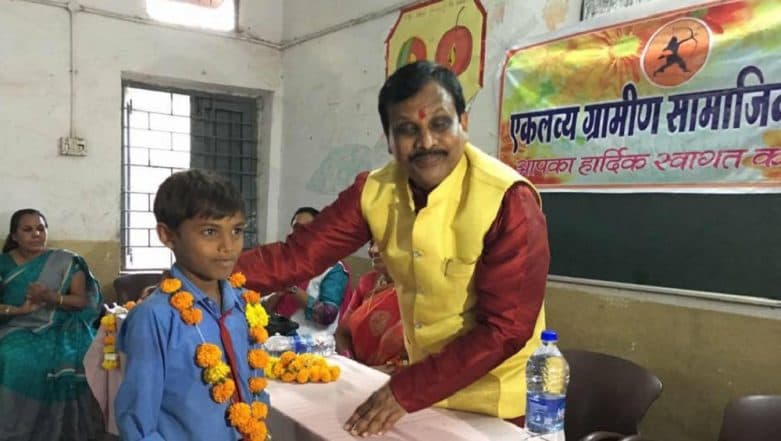 Ratlam, May 11: Bharatiya Janata Party (BJP) candidate from Ratlam-Jhabua Lok Sabha seat - Guman Singh Damor - on Saturday sparked controversy by praising Mohammed Ali Jinnah. Speaking at a rally, Damor said that India was divided because of the ego of Jawaharlal Nehru. He further added that If during Independence in 1947, Nehru would have agreed to make Mohammed Ali Jinnah the Prime Minister, then India would not have been divided. Praising Jinnah, the BJP candidate said the founding father of Pakistan was a knowledgeable person.
Ratlam is going for polls in the seventh phase on May 19. The constituency has been a BJP stronghold since 1989. Prof. Chintamani Malviya of the BJP had won the 2014 Lok Sabha election from here. The counting of votes will take place on May 23.
Guman Singh Damor praising Jinnah:
#WATCH Gumansingh Damor, BJP candidate from Ratlam-Jhabua LS seat: Azadi ke samay agar Nehru zidd nahi karte, to is desh ke 2 tukde nahi hote. Mohd Jinnah, ek advocate, ek vidwan vyakti, agar us waqt decision liya hota ki hamara PM Md. Jinnah banega, to is desh ke tukde nahi hote pic.twitter.com/w9mRk9K9ju

— ANI (@ANI) May 11, 2019
Earlier in April this year, sitting parliamentarian from Patna Sahib Lok Sabha seat - Shatrughan Sinha also praised Jinnah. Addressing a gathering in Chhindwara on April 27, Sinha had stated Congress had played a crucial role in the development and independence of the country. Taking the names of prominent leaders like Mahatma Gandhi, Mohammed Ali Jinnah, Pandit Jawaharlal Nehru, Indira Gandhi, Subhash Chandra Bose and others, Sinha explained why he joined Congress. In 2005, senior BJP Leader Lal Krishan Advani had also praised Jinnah.
Jinnah was the founding father of Pakistan. He served as the leader of the All-India Muslim League from 1913 until Pakistan's independence on August 14, 1947. He was the first Governor-General of Pakistan. Jinnah is revered in Pakistan as Quaid-i-Azam and Baba-i-Qaum.