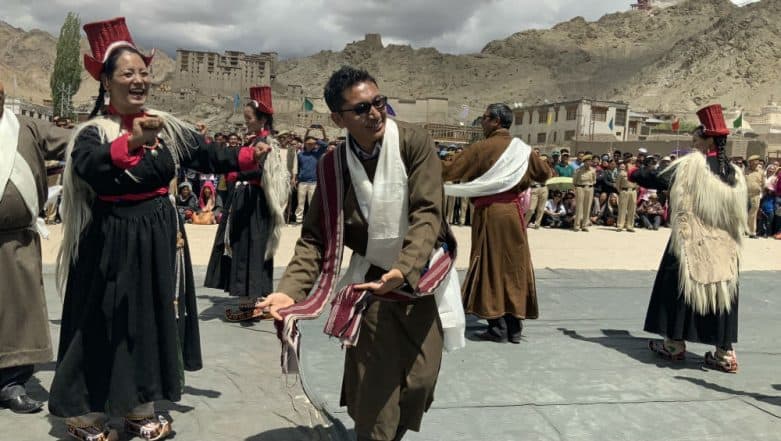 Srinagar, August 17: Jamyang Tsering Namgyal, the 34-year-old BJP MP from Ladakh who won many admirers for his powerful speech in Parliament supporting the revocation of special status for Jammu and Kashmir and creation of separate union territory of Ladakh, on Saturday expressed happiness after the UN Security Council (UNSC) held the closed-door talks on Kashmir. Jamyang Tsering Namgyal, however, maintained that the Kashmir issue is an internal matter of India.
"I am happy that due to the decision taken under Modi Ji's leadership, Ladakh is being discussed at the UN. Earlier, when Congress was in power, Ladakh was not even discussed in Parliament let alone the UN," Namgyal said. "How the Indian government develops one of its regions is an internal matter. If the neighbours have a problem with it, we can do nothing. Ladakh is an integral part of India, it's one of India's invaluable jewels, how to handle it is an internal matter of India," the BJP MP added. Jamyang Tsering Namgyal Dances With Locals During 73rd Independence Day Celebrations.
On Pakistan's request, which was backed by its all-weather ally China, the UNSC held a closed-door discussion on developments in Jammu and Kashmir after India scrapped the special status of the state under Article 370 of the Indian Constitution and bifurcated the state. Matters relating to Article 370 on Kashmir are "entirely an internal matter of India and have no external ramifications", Syed Akbaruddin, India's permanent representative to the United Nations, said. Ladakh MP Jamyang Tsering Namgyal Tears Into Opposition During Article 370 Debate.
Reacting to Defence Minister Rajnath Singh's statement on Friday that India's commitment to a 'No First Use' nuclear policy is subject to future circumstances, Namgyal said Ladakh will always stand with India. "People of Ladakh will always stand with the decisions that the Indian government takes. It's better if there is no war but if it's in the interest of the country, ppl of Ladakh will stand with the decision," the BJP lawmaker said.