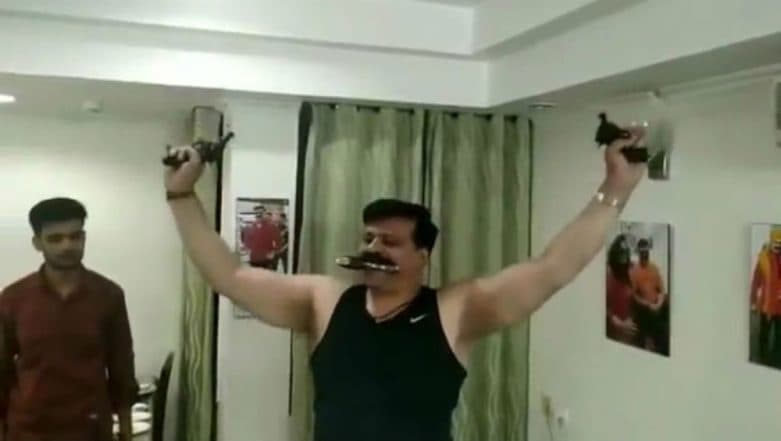 Dehradun, July 17: The Bharatiya Janata Party (BJP) on Wednesday suspended its Uttarakhand MLA Kunwar Pranav Singh Champion from the party for six years days after a video of him brandishing guns went viral. Kunwar Pranav Singh Champion was served a show-cause notice by Uttarakhand BJP chief Ajay Bhatt after he was seen dancing with two pistols and a carbine in a viral video.
In the notice, Bhatt sought Champion's explanation on the incident and asked why he should not be expelled. While no FIR has been registered against Champion, three arms licenses of him have been suspended by state authorities. "After getting reports from the Haridwar police, I have suspended three licences of Champion," District Magistrate Dipendra Kumar Chaudhary said.
The action came following a report by Haridwar Senior Superintendent of Police Janmejay Khanduri that the licenses of the three weapons - a double-barrel rifle, a revolver and a modified carbine, should be cancelled on security and safety reasons. Champion defended his actions and said his son, who is a shooter, used to practice with these weapons.
Dancing to the tune of Gup Chup song from Bollywood blockbuster Karan Arjun, Champion is seen holding a pistol in his mouth and a carbine in one hand while there is another pistol in the other hand. Holding a glass of whiskey, he is even seen allegedly abusing Uttarakhand.
Champion had been suspended for three months by the ruling BJP last month, after a preliminary report prepared by the state party unit's disciplinary committee found him guilty of gross indiscipline and also took cognizance of his alleged threats to a journalist. The action was taken after a video had gone viral last month in which Champion, the MLA from Khanpur, was seen threatening an electronic media journalist.