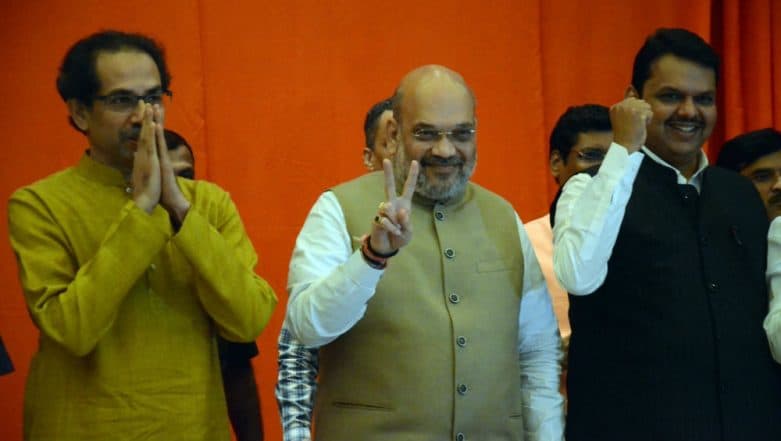 Mumbai, February 18: With the Lok Sabha elections knocking the door, BJP president Amit Shah on Monday reached to its oldest political ally Shiv Sena in Mumbai and offered him the deal of 23 seats. Maharashtra Chief Minister Devendra Fadnavis stated that both parties would contest elections - Lok Sabha and Assembly - together and BJP would contest on 25 out of 48 Lok Sabha seats.
Addressing a joint press conference in Mumbai, Fadnavis stated that for the upcoming Lok Sabha elections, the BJP would contest in 25 seats, while Shiv Sena would fight for 23 seats. He said, "Shiv Sena will contest 23 seats and BJP will contest 25 seats in the Lok Sabha elections." As per the deal, the BJP would also contest Assembly elections together in Maharashtra together with Shiv Sena. Shiv Sena Demands Maharashtra CM's Post to Continue Alliance With NDA.
Stating the details of the meeting between Amit Shah and Uddhav Thackeray, Fadnavis said, "We have had our differences, but in terms of ideologies we are alike, hence have stayed together for this long." Adding on he said, "We couldn't stay together during last assembly elections for some reason but for the last 4.5 years, we have stayed together, both in the centre and states."
Expressing his firm belief on the alliance's victory in the state, BJP president Amit Shah said, "I am confident that BJP and Shiv Sena together will win 45 out of 48 seats in Maharashtra in the Lok Sabha elections."
Earlier, there were speculations that BJP and Shiv Sena would contest the Lok Sabha elections separately as they did in 2014. During the party's national executive meet in January last year, Shiv Sena had resolved to fight the Lok Sabha and Assembly elections on its own. In the 2014 Lok Sabha polls, BJP and Shiv Sena contested as alliance partners and won 41 seats out of a total of 48 at stake in Maharashtra. BJP had won 22 seats, while Shiv Sena 19. However, they contested the subsequent Assembly polls separately.
Shiv Sena has been firm that the alliance for the Lok Sabha polls could be firmed up only if BJP was ready to announce the seat-sharing formula for both the general and Assembly polls in Maharashtra. (With agency inputs)