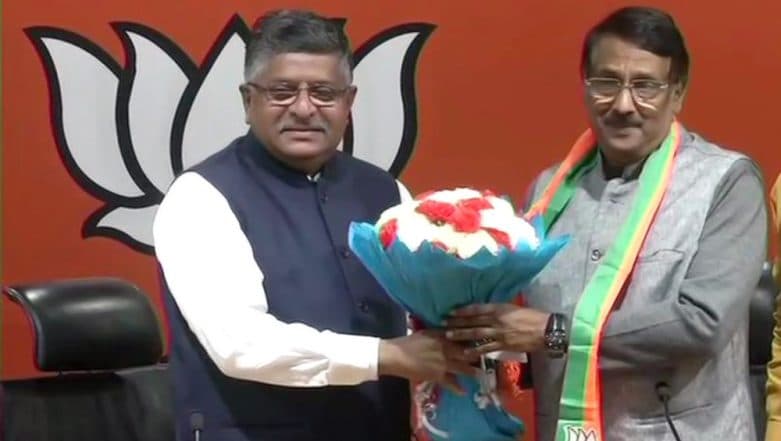 New Delhi, March 14: In yet another jolt to the Congress ahead of Lok Sabha Elections 2019, another party leader has jumped ship and joined the Bharatiya Janata Party (BJP). Kerala Congress leader Tom Vadakkan joined the BJP in Delhi on Thursday, in the presence of Union Minister Ravi Shankar Prasad and BJP chief Amit Shah. Vadakkan is said to be a close aide of UPA Chairperson Sonia Gandhi and him joining the BJP is being seen as a big setback for the Congress. He was the National spokesperson of the Congress party. Lok Sabha Elections 2019: Maharashtra Congress Leader's Son Sujay Vikhe Patil Joins BJP.
Here's What Tom Vadakkan Said After Joining BJP
Tom Vadakkan: I left Congress party because when Pakistani terrorists attacked our land, my party's reaction to it was sad, it hurt me deeply. If a political party takes such a position that is against the country then I'm left with no option but to leave the party. pic.twitter.com/8oZYoFRGx4

— ANI (@ANI) March 14, 2019
While joining the BJP in Delhi today, Vadakkan said that he decided to quit the Congress due to the party's stand on the Indian Air Force (IAF) air strike in Balakot. After joining the BJP, he also attacked Congress over dynasty politics.
The election season does not seem to be going well for the Congress as this is the second big jolt for the party in two days. On Wednesday, Sujay Vikhe Patil, son of the party's senior leader in Maharashtra Radhakrishna Vikhe Patil, joined the BJP, saying he took the decision by going against the wishes of his father. After Patil, Congress MLA from Wadala-Naigaon constituency Kalidas Kolambkar is also set to join the BJP.
Earlier this week, a Congress MLA in Arunachal Pradesh also defected to the BJP. Markio Tado represented Tali constituency in Kra Daadi district of the BJP-ruled state. In Gujarat too, Jamnagar (Rural) MLA Vallabh Dharaviya on Monday quit the Congress, tendered his resignation from the Gujarat Assembly, and joined the BJP.