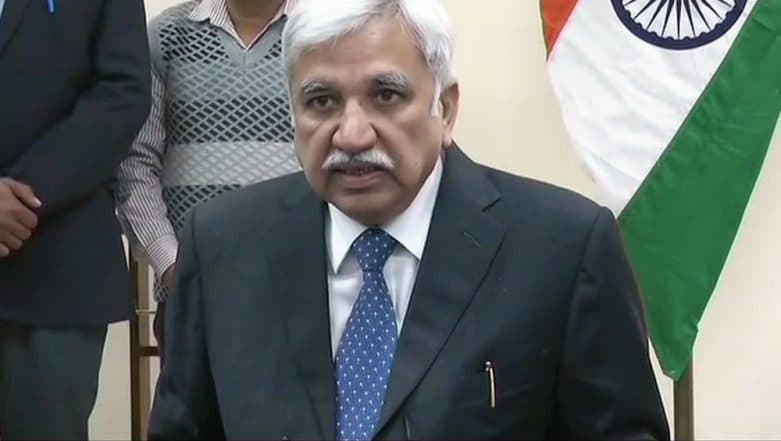 New Delhi, March 10: Bihar, Uttar Pradesh and West Bengal will see staggered Lok Sabha elections spread over all seven phases starting from April 11 to May 19, it was announced here on Sunday.
Chief Election Commissioner Sunil Arora told the media that 22 states and union territories will see single-phase election, Karnataka, Manipur, Rajasthan and Tripura will see polling in two phases, Assam and Chhattisgarh will have three-phase polling, Jharkhand, Madhya Pradesh, Maharashtra and Odisha will see four-phase polling and Jammu and Kashmir will have five-phase elections. Lok Sabha Elections 2019: Indian Voter Population Is 900 Million, Says CEC Sunil Arora.
LS Polls:Phase1 in 91constituencies in 20states,Phase2 in 97constituencies in 13 states,Phase3 in 115constituencies in 14states,Phase4 in 71constituencies in 9 states,Phase5 in 51constituencies in 7states,Phase6 in 59constituencies in 7states&Phase7 in 59constituencies in 8states pic.twitter.com/bHUBg5pEVr

— ANI (@ANI) March 10, 2019
The places where elections will take place in a single phase are Andhra Pradesh, Arunachal Pradesh, Goa, Gujarat, Haryana, Himachal Pradesh, Kerala, Meghalaya, Mizoram, Nagaland, Punjab, Sikkim, Telangana, Tamil Nadu, Uttarakhand, Andaman and Nicobar Islands, Daman and Diu, Dadra and Nagar Haveli, Lakshadweep, Chandigarh, Delhi and Puducherry.