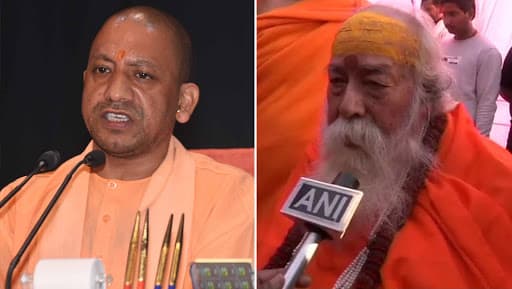 Prayagraj, February 11: The politics over the Ram Temple's construction is gaining momentum with the passing time, as on one side Shankaracharya Swaroopanand Saraswati threatening to head towards Ayodhya from Prayagraj on February 17 to lay the foundation stone and on the other hand Uttar Pradesh CM Yogi Adityanath claiming to end the 25-year-old land dispute within 25 hours.
Reiterating his old statement, Saraswati on Monday said that the conglomerate of saints would march towards Ayodhya on February 17 and lay the foundation stone for the Ram Temple. He also threatened that the Hindu saints are not going to wait longer and would begin the construction by February 21. Saraswati said, "On 17 February, we will head towards Ayodhya from Prayagraj, and on 21 February we will lay the foundation stone of Ram Temple." Rahul Gandhi Will Build Ram Temple in Ayodhya by Consensus, Claim Congress Posters in Madhya Pradesh.
Though the Uttar Pradesh CM Yogi Adityanath states that the matter in Supreme Court and should be resolved accordingly, his statements do not match with his opinion. On Monday, Adityanath said that there is no land dispute and the only issue that could be taken into account is whether it's Ram Janmabhoomi or not.
He said, while addressing the UP Assembly on Monday, "Allahabad HC ne kaha hai ki jahan Raam lalla virajman hai, wahin Ram janmabhoomi hai. To mera ye manna hai ki vivad to wahin pe samapt ho chuka hai. Bantware ka to vivad hi nahi hai. Vivad keval ye tay hona tha ki ye Ram Janmbhoomi hai ya nahi hai. (Allahabad HC told that where Lord Rama is seated, there is Ram Janmabhoomi. My opinion is that the matter is resolved. There is no issue of division of land. The only thing that needs to be decided is whether it's Ram Janmabhoomi or not)."
Adding on, he said, "Aur jab ye tay ho chuka hai, to mujhe lagta hai ki 24 ghante se 25van ghanta lagna hi nahi chahiye is vivad ka samadhaan karne mein (When it's decided, I don't think that matter should take more than 24 to 25 hours)."
Earlier on January 30, Saraswati had claimed that the conglomerate would begin the construction of Ram Temple in Ayodhya from February 21 and for this, those mobilised for the effort would not be deterred by arrests or any other kind of obstacles. The decision came a day after the government approached the Supreme Court for permission to restore the "excess" land surrounding the disputed portion in Ayodhya to Ram Janambhoomi Nyas.
The government, in a petition, sought direction for releasing to the Nyas 67 acres, which it had acquired about two-and-a-half decades back, leaving untouched 0.313 acres of disputed land. However, the apex court had been deferring the matter of hearing due to the non-availability of judges.
(With Inputs From Agencies)