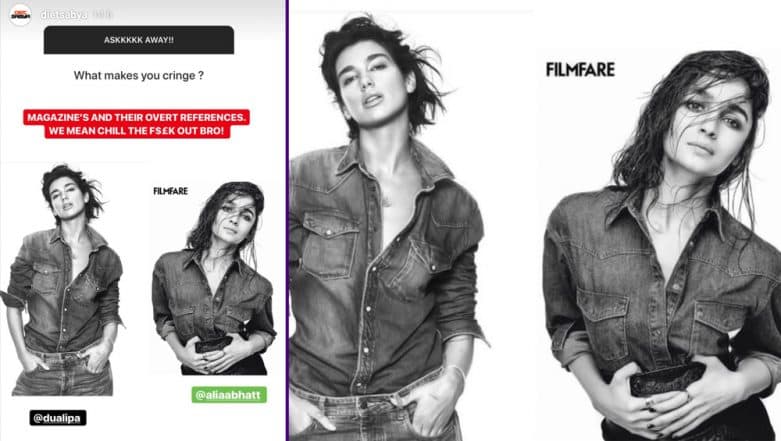 Can Diet Sabya get enough of trolling celebs for their 'inspired' fashion choices? Nah! The anonymous Instagram account is infamous for calling out different celebs and stylists for 'copying' each other's fashion statements. This time they targeted Alia Bhatt for her recent Filmfare shoot. She wore a sexy denim outfit and the photo-shoot was done in monochrome series. Diet Sabya called out this shoot accusing of them of taking reference from singer Dua Lipa's similar picture. However, Alia was quick enough to clarify the whole thing with details! Diet Sabya Trolls Sara Ali Khan's Latest Photoshoot For COPYING The Concept From Maison Valentino's 2016 Shoot.
In her latest Instagram story, she tagged the account subtly slamming them for calling her out wrongly. She mentioned that the photo-shoot with the Filmfare magazine was done on February 6 where as the picture posted by Dua was on February 24. Clearly, there was no reference taken by anyone here and probably, this time Diet Sabya got it wrong! Check out the posts and the pics below.
Diet Sabya Vs Alia Bhatt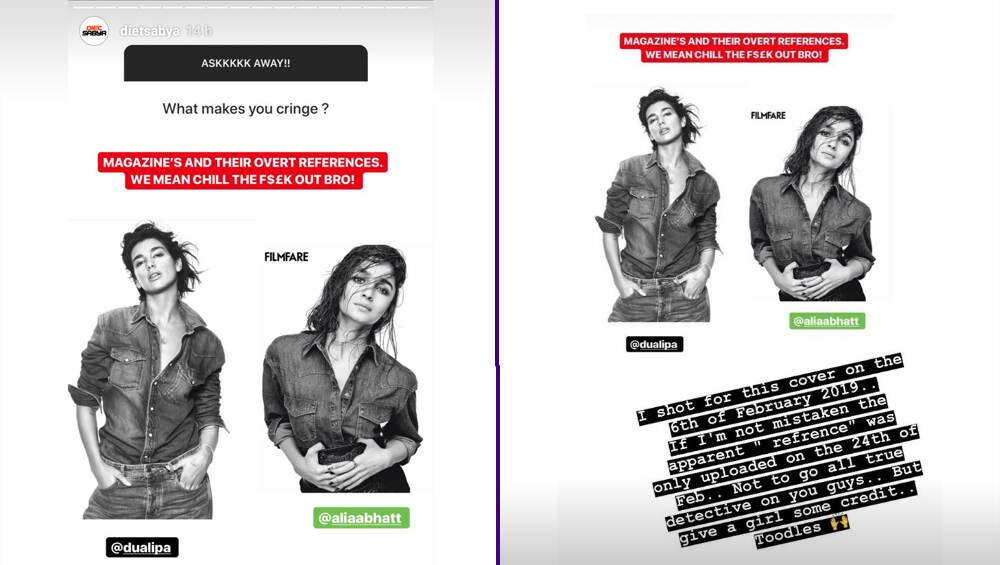 Alia's Filmfare Shoot
View this post on Instagram
Alia and Varun Dhawan For Filmfare
View this post on Instagram
Recently, Diet Sabya even called out Badhaai Ho actress Sanya Malhotra for wearing an inspired jump-suit. However, the actress took it sportingly by replying to them, "I know I should not be so glad, but I am too excited about my DietDebut. Thanks for calling me a good person." Well, coming back to the Brahmastra actress, we wonder what they have to say on Alia's reaction on the whole issue.