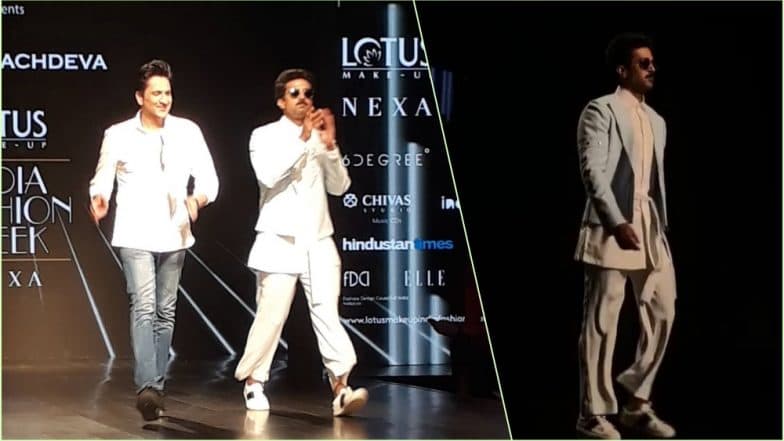 New Delhi, October 13: Actor Saqib Saleem, who turned showstopper for designer Pawan Sachdeva, rocked the Lotus Make-Up India Fashion Week (LMIFW) here on Saturday with an impromptu dance on the runway while the iconic number "Rock You" by Queen was playing in the background. Wearing a white shirt and trousers, paired with a powder blue jacket, Saqib also touched his father's feet and kissed his hand and then took the audience by surprise by doing an impromptu jig on the catwalk. Lotus Make-up India Fashion Week 2018: Athiya Shetty, Tabu, Yami Gautam & Prachi Desai Celebrate 'Tribes of World' With Style.
"I don't know (what made me do that)... I just felt like dancing. I have been a model before, we couldn't do all this then. That time we had to only walk straight and come back. Since I'm an actor now, so I took a little liberty," Saqib told IANS in a post-show conference.
Watch: Saqib Saleem Break Into a Dance on 'Rock You' by Queen
He said the dance move was to impress his father who was present there at the event. When asked about Saqib as the showstopper for the collection, Sachdeva said: "He is the perfect face for my collection." Sachdeva said the collection, which saw a wide range of pants, shirts, and jackets, was "inspired by peace and harmony".
The fourth and concluding day also witnessed a show titled "Rainbow" which will celebrate the Supreme Court's decision to repeal the historic Section 377, which criminalised gay sex. It had almost 40 designers coming together showcasing a wide range and celebrating "love" on stage.